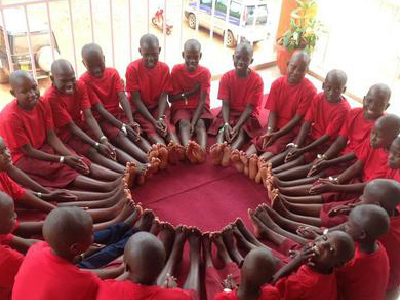 It seems like nothing can drum up excitement and passion for worship among young disciples more than a Passion conference, the worship movement started by pastor Louie Giglio.
While college students in the United States might have a chance to attend the event every year, the Passion World Tour has only passed through Kampala, Uganda twice. This World Tour brought a special opportunity to some of the young people in Kinship Projects in Uganda to worship with David Crowder, Matt Redman, Christy Nockels, and hear from Louie Giglio and others.
And, of course, when the children in Kenya heard that the kids in Uganda were going, and that the Passion tour was just over the border, they had to go, too! You can guess how this story ends - they were all united at the concert hall in Makarere University in Kampala, Uganda!
It must have been a marvelous thing to join over a thousand young people and shout in worship until your voice is gone, and then join hands with those around you for quiet prayer before returning to the songs once more.
This was more than just a fun concert. Orphaned children from two African nations came together and caught a glimpse of the greater picture - a world where the Gospel is going forth to change hearts and lives. Our prayer for all the children in Kinship Homes is that they would be caught up with passion to be leaders in their generation of world-changers.