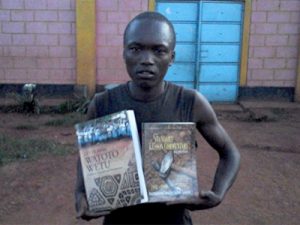 Troon is the oldest of about 30 orphans who live in the Manasseh Kinship Home in Kenya. Coming into a Kinship Home as an older child has been a hard transition for Troon and he had a lot of difficulties transitioning to be a part of "family life" since he had spent so much time of his young life alone.
Basically, Troon was a bad kid. He acted out all the time, he was mean to the other children in the home, disrespected the caregivers, and eventually Troon was suspended from school because of his behavior.
Pastor Martin and his wife kept praying and praying for Troon. They wanted him to get along with his caregivers and the other children in the home, they wanted him to respect his teachers and to have the ability to learn, and mostly they wanted Troon to know about Christ and his love.
During Troon's first week back at school after his suspension, Pastor Martin was invited to speak to the school during their chapel service. Pastor Martin gave a sermon about the cross, and he invited the students to give their lives to Christ. There were 4 boys who decided to give their lives to Christ that day, and Troon was among them!
Pastor Martin prayed with Troon as he accepted Christ into his life. It was a very emotional time for both of them and after praying both Pastor Martin and Troon were crying and thanking God for the miracle he had done in Troon's life. Pastor Martin didn't have the time he wanted to devote to spending with Troon because he needed to pray with the other students, so instead Pastor Martin had to pray for Troon from afar and trust God to continue working in his life.
Since that day, Troon has grown even closer to Christ. He has started to get along better with his teachers, the other children, and the caregivers in Manasseh Kinship Home. And about six months after accepting Christ, Troon was chosen to lead the Christian Union, a student bible study in his school and was elected as a Sunday school teacher at his home church.
God has transformed Troon's life, and it's amazing to see how Troon is using that transformation to pour into people around him. Troon is even doing well in school now and dreams of one day becoming a doctor so he can continue to help those in need.
How incredible is Troon's story?
His story was possible because of Christ's amazing grace and your devotion to children who everyone else has written off as too much trouble.
Thank you for supporting Manasseh Kinship Home and children like Troon! Will you consider helping other homes in Kenya so more children can be changed through the love of Christ?