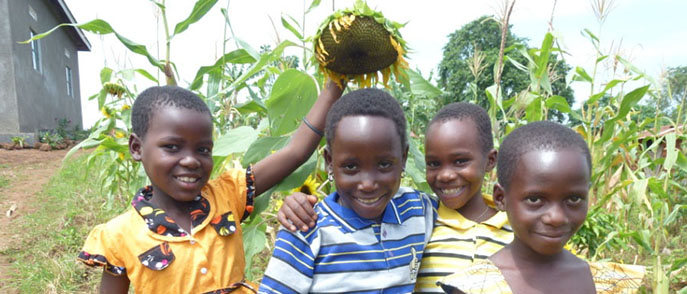 Minziro Kinship is located on the border of Uganda and Tanzania. It's close to the Minziro Forest Reserve. The Miniziro Forest is best known for the 600 butterfly species that live in the forest. That's more species of butterflies than in any other forest in Africa.
The land around the Minziro Kinship is beautiful to visit, but if you ask anyone from the Kinship they would tell you that their favorite thing is the field of hundreds of bright, yellow sunflowers that have grown in the Kinship's back yard. The flowers continuously brighten the day of the children, caregivers, and local community members of Minziro Kinship.
Minziro Kinship Needs Your Help
Pastor Nicolas and his team are struggling to make ends meet with the needs at Minziro because they keep growing every month. They're able to keep the programs marked below going, but it's getting desperate:

Pastor Nicolas wants to get Minziro back on its feet and running at full capacity again! Will you become a member of the Minziro Kinship by supporting it monthly and rescuing more children with Pastor Nicolas? Sign up here for more information.
Support Minziro Kinship
Rescue and care for vulnerable children and protect widows with Minziro! 100% of your gift will go towards helping those who need it most.
Pastor Nicolas and his wife