Have you ever been putting off your Christmas shopping and suddenly you get a reminder about the gift you had your eye on? This is that moment!
Maybe you've been thinking about getting a Christmas gift for a vulnerable orphan. That boy or girl like Eli (read his story here!) who was quivering with fear when they walked up to their new Kinship home's door is waiting for you to show them God's love this Christmas.
This heartsick child needs a place they can feel safe and they need someone to tell them they believe in them. That's the gift you can give them this Christmas.
How? With a bed and an education.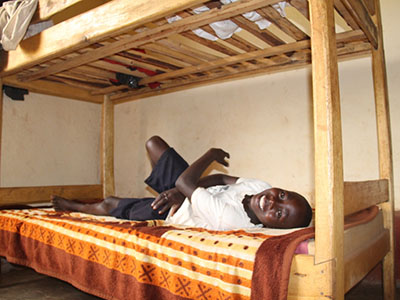 A bed is an orphan's security blanket – literally! It's the only place he has to call his own and it shows him he belongs. With a gift of $200, you can provide a bunk bed, mattresses, bedding, and mosquito nets for orphaned children.
Donate Now to Give a Child a Bed
Matthew 11:28 "Come to me, all you who are weary and burdened, and I will give you rest."
The child you can bless this Christmas has never gone to school. She was always too poor to buy the uniform and pay the fees required. You can tell her she has a bright future and send her to school for a whole year for just $160!
Donate Now to Send an Orphan to School
Jeremiah 29:11 "'For I know the plans I have for you,' declares the Lord, 'plans to prosper you and not to harm you, plans to give you hope and a future.'"