These tiny strips save lives. Can you guess what they are? Perhaps they're an important part of your own life. I'm talking about diabetes test strips.
For many people suffering from diabetes in the Dominican Republic, proper testing equipment is out of reach. The Cayacoa Kinship Project sees so many in their community who are sick with this disease, and their lives are crumbling around them. Many are wheelchair bound, have only one leg, or are losing their vision. And there are children caring for their parents who can no longer care for themselves, all because of diabetes.
But you can help struggling diabetics get the testing equipment they so desperately need every month. You can breathe new life into these people and their families.
Right now, the Cayacoa Kinship Project is organizing a plan to treat diabetics in their community and beyond. They already have medication and a team of volunteer medical professionals ready to jump in. But they don't have one very important thing: a monthly supply of diabetes test strips.
Will you support a person suffering from untreated diabetes with a monthly gift?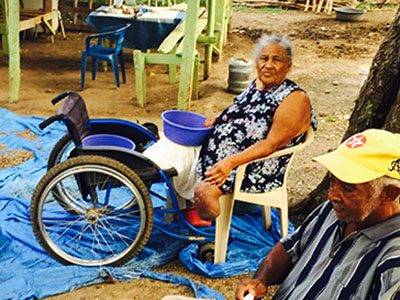 Like Antonia, who needs your help immediately.
Antonia is a mother of six and a grandmother of eight. She used to watch over her beloved grandchildren, but after losing her leg to diabetes, she's now the one who needs care. And to make matters worse, she's beginning to show signs of kidney problems.
If people suffering from diabetes don't begin testing and treating themselves immediately, the disease will progress. And that progression can lead to life-altering consequences. Untreated diabetes can result in amputation, blindness, and even death. However, those small strips can help prevent these tragedies.
For just $18 per month, you can give one diabetic enough strips to check their blood sugar every day. Will you help?
If this issue hits close to home and you can afford a little more, $180 a month will give the same opportunity to 10 diabetics.
Antonia told us that she used to be a very active person, playing with her grandchildren and walking to the grocery story every day. Diabetes has now made her dependent on her adult children and unable to do the things she once enjoyed. But if she had the opportunity to keep her diabetes under control, she could restore her quality of life and hopefully protect her kidneys.
Will you help Antonia and people like her in the Dominican Republic with a monthly contribution of $18? Or a monthly gift of $180 if it's within your budget?
You can make it possible for this Kinship Project to heal those suffering from a highly treatable disease. You can save their lives today.