We love having our Founding Outpost Leaders come and visit us in the Kinship United office! Last week we were lucky enough to have Ben from Kenya visiting. Ben spent a month in the United States visiting churches, making connections and letting people know about the work that God is doing in Kenya. It was great to have Ben make his last stop in the United States the Kinship United office before he headed back to Kenya.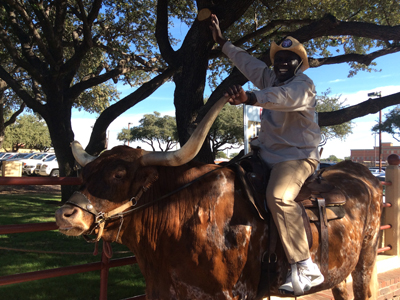 Ben updated us on the work going on in Kenya and the fact that God is doing some amazing things:
The first piece of news that Ben gave us is that there are 5 new

Kinship Projects

opening up in Kenya. These Kinship Projects will include churches, living areas for

orphans and widows

, schools, kinship facilities for the community to use and free access to water for the community. Most of these Kinship Projects are already being used for churches and they are almost ready to take in children to live in the Kinship Homes.
Ben also updated us on the Medical Clinic that has been built near the

Ephraim Kinship Project

. It is fully built and almost ready to begin taking patients, the clinic is only waiting on medical supplies and equipment which are on their way. This clinic will provide medical assistance to the 6,000 people who live in this community where the closest hospital is over 10 miles away.
Ben also shared with us his Four Big Dreams:
Ben would like to provide

music training

for the children in every Kinship Project. This training can help heal children from past hurts, bring the children closer to Christ and give them opportunities for the future.
Ben hopes to start a travelling evangelism group that would travel in a truck to remote villages to share the gospel with music and evangelism. Some of the youth in the Kinship Projects would be a part of the group by providing music, while local pastors would preach.
Ben is looking into ways to make the Kinship Projects more self-sufficient. The main way he is hoping to achieve this is by providing food security through

farming

. The Kinship Projects will buy or rent land to farm, allowing them to produce their own food and supplement their diet. This is exciting because it would help provide a more balanced diet for the children as well as save or make money in the future.
Ben dreams of building a Recreation Park at one of the Kinship Projects. These are rare in Kenya, and families pay to access playgrounds, trampolines, sport fields, swimming pools, and more! Ben dreams of opening one of these parks for the dual purpose of allowing the Kinship children to go there for free and as a way to provide income for the Kinship Projects.
We love that Ben dreams BIG! He has some great ideas and a bright future for the children in his Kinship Projects. Join us in prayer as we see where God is leading in these new ideas. We'll be sure to update you as things unfold or donate to Kinship Projects in Kenya today!