HUMAN TRAFFICKING OF CHILDREN STARTS ON THE STREETS
The fight against child sex trafficking in Cambodia is far from over.
Srey Son and her baby sister, Davi, struggled to survive after their mother died. To escape the raging poverty in their small Rattanakiri Province village, Srey Son and two other women decided to leave for the big city of Phnom Penh.  Their plan was to earn a better living by working in a factory located in the Garment District.  Seven year old Davi was too young to work in the factory but she could help. One of the women was a widow with two babies. They hoped Davi was old enough to stay home alone and care for the little ones while the grownups worked their long hours.
One day when all women were at work Davi vanished.
Srey Son spent months filing police reports and knocking on endless doors, hoping to either find her sister or information. She found neither. Waking up some nights, startled by noises from their overcrowded neighborhood, she still listens intently, hoping hear her little sister's cry for help. Nothing.
If still alive, Davi would be 12 by now.
The women now live together in a windowless, four-by-four-meter rented room. The floor, covered with plastic sheets, is where meals are prepared during the day and where they sleep at night. Bags, boxes, clothes, pots, pans, and the toilet crowd this small space. There is no furniture. They bathe on the balcony, in a space covered hanging plastic sheets offering some privacy. The women often work 12-hour shifts, six days a week. Despite these long hours, their low wages give them little chance of individually making ends meet. They try to work alternating shifts so one of them can stay with the children, but it is not always possible. At the moment, they have enough not to starve, but hardly enough to survive. They have no means to return to their village. They live in crowded tenement housing among thousands just like them. Shattered dreams. No hope.
Since Davi's disappearance they are too scared to be alone. They are always one step away from calamity. How to fight against human trafficking? Prevention is one of the best ways.
TODAY YOU CAN HELP!
Join KINSHIP CAMBODIA ORGANIZATION Garment District Outreach Program
KINSHIP CAMBODIA ORGANIZATION is a nonprofit Christian mission engaging young generations of local leaders. If you'd stand on the balcony of our church building, in the heart of Phnom Penh, as far as the eye can see there are sheet metal roofs of factories of the Garment District. That's where women like Srey Son work. We felt that as our neighbors they should become the target of our daily outreach. We serve them offering:
Free Childcare
Counseling Services
Traditional Dance Classes
English Lessons
They also enjoy holidays with us, and just a place to come, and socialize safely.
We currently have 200 women and children participating in our programs. We help keep the children off the streets and young women in safe environment. We teach them skills to brake the crippling poverty chains. Your contribution will help KCO continue serve hundreds, even thousands more.
Most of the women and all children who end up trafficked and in prostitution had no other choice.
The women who come to our social programs or games soon also participate in our Bible Study and Worship. They are relieved to be at last in a save and joyful community. They appreciate chance of learning. They are in awe to learn about the Father who loves them!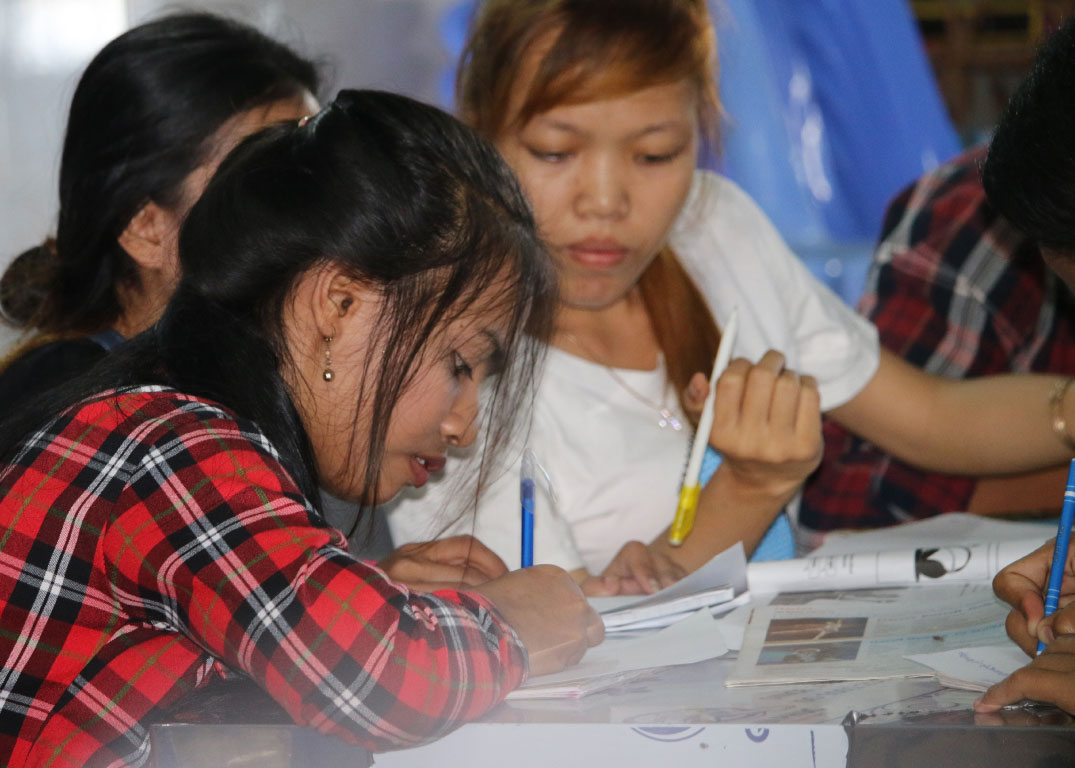 Help us save vulnerable women and girls like Davi and Srey Son!
Kinship Cambodia Organization is a nonprofit Christian mission engaging a young generation of Cambodian Christian leaders to share the Gospel and bring permanent change to our country. We reach out with evangelism, education, encouragement and, when possible, assistance with food, water, and healthcare. Our Kinships across Cambodia create network of permanent homes for orphans and widows based in local churches.  In the US we work in fellowship with a 501(c)(3) charitable organization Kinship United; 100% of donations collected by Kinship United is sent exactly to an outreach or program of your choosing.