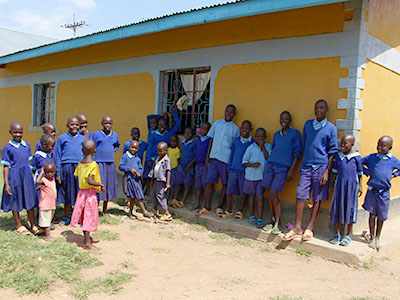 Most of you know me as the Amazing Grace Kinship. But to dozens of kids who've lost everything due to war and tragedy, I'm better known as Home.
In the beginning, my walls shone bright with new paint, and I had beautifully tiled floors. I had brand new mattresses and bedding. These kids needed a safe space, and it was my job to give it to them!
I've protected these orphaned and abandoned children the best I could through the tears and the heartbreak. I've been a resting place for terrified refugees fleeing massacres. A place where they could sleep safely and have a hot meal. And I've done it all proudly.
But I and other Kinship Homes are starting to see the wear and tear of our work. Some of us are over 18 years old, and it shows. Picture little handprints on my walls, chips in my floors, and torn bedding and mattresses. My roof could use a little help as well. I need to continue my work for another 20 years!
I love these children, and I want to keep them safe just as much as you do. Will you help us Kinship Homes get the TLC we need so we can keep protecting these children?
Thank you for caring about a tired old building like me!