In Kenya, brilliant students are pulled out of school every year, and most of the time it's just because their families can't afford for them to go.
We have a feeling you'd like to change that. And guess what…you are!
School fees, uniforms, books and supplies are too much for impoverished families. Most students at least get to go to primary school, as it's less expensive, but once they hit high school, parents keep students home or make them start working. An entire generation of capable, smart children are not going to receive their high school diplomas.
You're a part of the solution
When you support our Kinship Projects you're helping to send older students to high school. This is a big deal in a country where less than 35% of students finish high school. And that statistic is even lower if you live in a rural area like many of our Kinship Projects, or if you're a girl!
In 2016 Kinship United was able to send 11 students to High School for their freshman year!
Bosnia, Manasseh, Aruba, and Geta were all able to send students to the Ephraim Kinship Project so they could attend Gilgal High School. Attending high school is something these students had been dreaming of doing during all 8 years of their primary school education, but never expected would become a reality. These children are blessed beyond their own belief, and it's because of you!
Zilpah's life has been changed, thanks to you!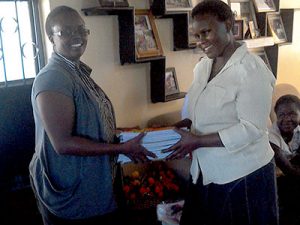 One of the students was a young woman named Zilpah. She is a single mother who wanted to change her life through education. Zilpah came to work in the Manasseh Kinship Project in 2015, but when Ben and Christine found that she was a smart girl who wanted to learn, they decided to send Zilpah to school!
Zilpah has been working very hard in school. She wants to do well for her two children. She plans to finish her high school degree and then go to college to become a lawyer. Eventually she wants to serve in the justice system, caring for needy and poor communities like the one where she grew up.
Will you continue to help?
Keeping all these students in high school isn't an easy task, with all the school fees and other costs, but education is very important to Bishop Ben and his wife Christine, and they want to see as many students from the Kinship Projects finish their high school degrees as possible.
And thanks to you! They are able to do it!
Ben and Christine can't thank you enough for supporting them, and for supporting the students in Kenya!