Eight Ways You Can Share Christ's Love with Orphans this Christmas
Give a gift that keeps on giving this Christmas. Shop our charitable giving catalog below to find eight ways you can tell an orphaned child they are loved and help them thrive heading into 2023.
100% of your gift goes toward making this Christmas extra special for an orphan who needs you this year.
Orphan Rescue Operations
Make sure orphans and widows will be taken care of no matter what comes our way in 2023. 100% of your gift will help orphans and widows.
Food
Feed Kinship Kids, widows, and hungry families struggling to make ends meet within nearby communities during this difficult time.
Clothes and Shoes
Clean clothes without tatters and shoes without holes bring an orphaned child the dignity and confidence they deserve and long for.
Education Needs
Set an orphan up for success with a backpack full of books, school supplies, and more. Give them a chance at a brighter future with your gift today.
Energy/Solar Power
Solar energy is essential for many of our rural Kinship Projects who cannot connect to a local energy grid. You can help make them safer and brighter.
Live Out the Gospel this Christmas
Christmas Day is supposed to be a day of tremendous joy, celebrating Jesus' birth with prayer and holiday festivities. But for orphans and widows struggling to survive, it's just another day with every minute spent wondering where their next meal will come from.
Food prices have skyrocketed. Global inflation placed tremendous stress on every sector and on every struggling family, especially those already living in extreme poverty. The pandemic worsened the living conditions of people who were already battling hunger, disease, poverty, and more. Global food insecurity continues to devastate the world's most desolate and vulnerable people – "the least of these" whom God has charged us to care for, to protect, and to love.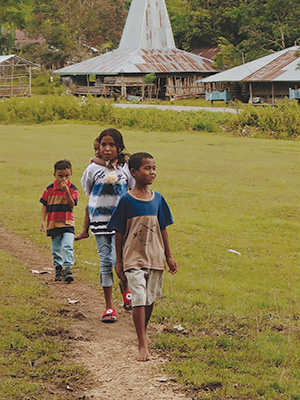 Many orphaned boys and girls don't know where their next meal will come from. They have survived conflict, dehydration, malnourishment, sickness, and heartbreak. Now, all of these new orphans need and deserve rescue, care, and safety.
And they deserve to wake up on Christmas morning and feel joy. They deserve a warm meal, a gift of their own, and to be surrounded by love. They deserve to know that Jesus loves them and to celebrate his birthday with the same happiness as any other child.
For an orphan who has endured trauma and is left with nothing, neither a parent who loves them nor a meal to eat, the start of a happy life and a bright future comes when they are rescued by a Kinship Project. You give each rescued orphan a place to thrive, grow, and belong. And the chance to celebrate Christmas Day sparks a joy of belonging and safety unlike any other.
Christmas morning will be here soon. Will you live out the Gospel and make Christmas extra special for an orphan who needs you this year?

Kinship United is a 501(c)(3) charitable organization recognized by the Internal revenue service. Contributions are tax-deductible to the fullest extent of the law. 
Once in a while we receive more contributions for a given area of need than can be wisely applied. When this happens, we apply those funds where they are most urgently needed.