Hurricane - Round Two!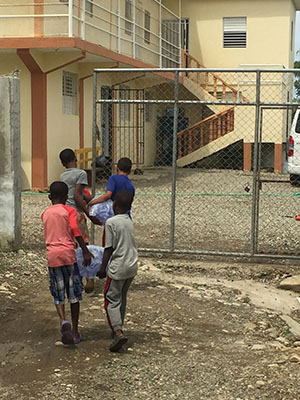 Cayacoa Kinship took shelter once again Thursday evening (9/21), nailing plywood over the windows and bringing in bottled water and generators. They provided shelter for nearly 80 of their neighbors last night during yet another traumatic event for their community.
Please keep praying for them, and thank you as always for your support and prayers!
REQUESTS FROM BOOTS ON THE GROUND


REBUILD AN ORPHAN'S SAFE SPACE Kinship Kids still remember what it was like to sleep on a cold dirt road or in a disgusting garbage dump. It's enough to give them nightmares even now! Will you make sure each little one has a cozy bed to sleep in? MAKE IT POSSIBLE
NINE-MONTH DEATH SENTENCE She knew she was dying. With each debilitating contraction growing stronger and more painful, the desperate woman staggered into our Kinship Home. She was sure she wouldn't survive, but she needed to know her beloved baby would be safe. READ ON
STOP THE ITCH: MOSQUITO CONTROL For most Kinships, contracting malaria or another mosquito-borne illness is not a matter of "if," but a matter of "when." Zika, malaria, yellow fever, and more are out to attack these children. But you can keep them safe! LEARN HOW