Earlier this year one of our founders, Craig Muller, and Pastor Mark Colavecchio, of one of our supporting churches, traveled together to Southeast Asia. Over the years, Mark has gained a unique perspective of Kinship United, and he was happy to share his experiences with us.
---
Kinship United: How long have you been working with Kinship United?
Mark Colavecchio: Our church has been working with Kinship United for about 4 years. We actually found out about Kinship United from our Dentist. He told my wife about Kinship United and the work you were doing while giving my wife a dental exam. She came home and told me what she had learned, and we looked into working with Kinship United. At that time, we were looking into working with a specific people group, so we were excited about how Kinship Untied would allow us to focus on one village.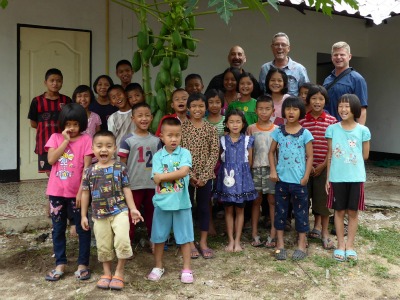 Kinship United: Tell us a little bit about your trip with Craig.
Mark Colavecchio:
Thailand:
Last Christmas we raised money with our Christmas offering to build a Kinship Home in Thailand. During the trip, we were able to go and see the Kinship Home we had built. We also met Tutu, the outpost leader in Thailand. We built a relationship with Tutu as she showed us around Thailand. Tutu took us to the border of Myanmar where she works with refugees living in fields and garbage dumps. It was amazing to see her compassion for the refugees in the area, and the work she is doing with them through churches and outreach.
Cambodia: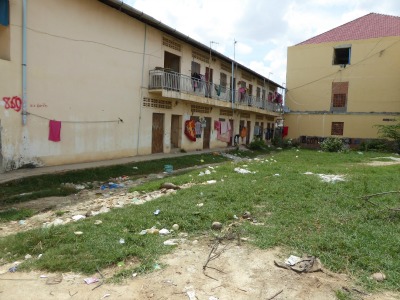 After Thailand, we traveled to Cambodia and got to meet with Peter and Jack and the church in Cambodia. We went to the garment district in Phnom Penh and got to see how all of that works. This was also the most eye-opening part of the trip for me. I had heard that big brand companies used those factories in other countries and paid low wages, but I didn't think it was that big of a deal. But when I got there and I saw the factories, that changed everything.
There are developments across the street from the factories that rent rooms by the half day because that is all the people can afford. They get off work, find their children, go to an empty room in one of these developments and roll out a mat on the concrete floor in order to sleep. In the corner of the room, there is a bucket for them to use as a bathroom. These people don't have an opportunity to get ahead, they are just in survival mode.
The only hopeful part of the whole situation was the church. Peter had started a church right across from the factories. This church understands the culture of the garment district and works to take care of those people. They provide childcare during the day for the children of factory workers, they give the people food when they have nothing, and they have passionate worship – fully believing in the work God can do. They are giving hope to people living in an extremely dismal situation.