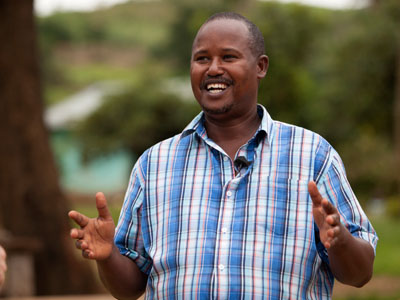 Reverend John Kamanzi
Uganda
Rev. John Kamanzi was himself an orphan. When he was just 13, war claimed both of his parents and he became the head of his family. He gave his life to Jesus at the age of 18. He felt called from the beginning to counsel surviving youth. His initial ministry as a Youth Pastor grew rapidly with the Lord's help.
"I was called into ministry in 1995. First, I started doing evangelism with different church groups. Eventually in 2002, right after I completed necessary education I entered the ministry full time. Within a few years, as the ministry grew, I became representative of pastors."
Rev. John Kamanzi is currently the National Leader of Hope For New Life Ministries in Kampala, Uganda. Childhood restoration and raising disciples among surviving orphans remains his passion. In 2008 through associations with Warm Blankets Orphan Care International (now Kinship United), John was introduced to the Kinship Project Model. Building and providing support for Kinship Projects is his top priority ever since. John is also married, and the Lord blessed him and his wife Pauline with four great kids: Faith, Douglas, Angel, and Craig.
Pastor Petros Oun Chhayvra
Cambodia
Petros Oun Chhayvra, better known as Pastor Peter, has been the key figure in growing Cambodian New Generation Church and its ministries. Previously part of one of Warm Blankets' (now Kinship United's) ministries, he had already demonstrated exceptional leadership ability, heading a board of 100 Cambodian pastors who were associated with Kinship Projects or other ministries. But even with this background, it took incredible courage and faith to make the move he did to start Cambodian New Generation Church. He received pressure and threats from other ministries working in Cambodia, and he was told that he was sure to fail. He was often deterred from going out on his own but not discouraged.
Strong in his faith, Peter leaned on God during these times and trusted that with His grace it would work out fine.  And fine is an understatement. Peter has a heart for CNG to be country wide and THE premier Christian organization to support and provide leadership training for pastors so they can better help disenfranchised, disconnected, and isolated communities throughout the provinces. In doing outreach missions, he recently began to unite and organize pastors in Cambodia for growth and support.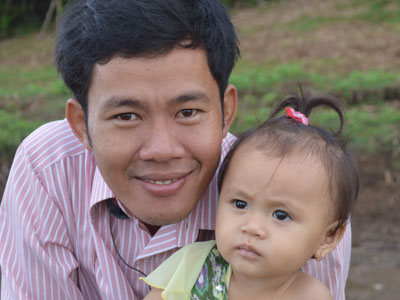 Pastor Jack Horm Kosal
Cambodia
Pastor Jack has been involved with Kinship United for many years. He felt a strong calling to use his passion to help the youth in Cambodia. His focus is aimed at providing an education, with both English classes and Bible classes, so that the orphans can take those skills, find jobs, and become future leaders in their communities. As a pastor, he is always seeking to learn more by listening to podcasts. Pastor Jack is married and just recently adopted a baby.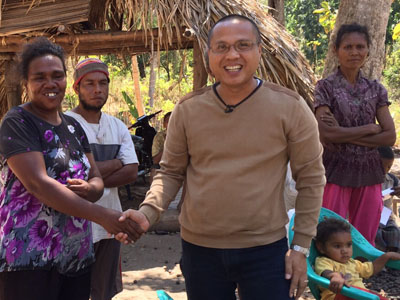 Pastor Paulus Wiratno
Indonesia
Pastor Paulus Wiratno has been in ministry for many years, first as a pastor and later as an advocate for orphaned and abandoned children. Wiratno's orphan care ministry began with an unwed mother who gave away her three day old baby boy to Paulus and his wife, Marliesye. Two weeks after that, another woman contacted Marliesye, wanting to give away her baby. The story went on, and more unwanted and abandoned babies have been given to Marliesye and Paulus.
Realizing the need to rescue babies and orphans, Paulus and Marliesye then started a foundation called Mercy Indonesia. In September 2004, Paulus was invited by the head of the social department of Bali province to promote the mission of Mercy Indonesia Foundation. As a result, many people have come forward to support the ministry. Mercy Indonesia is rescuing desperate orphans from East Timor who have been living in refugee camps in Atambua-West Timor. Paulus currently oversees 12 Kinship Projects and runs a successful radio ministry, which is spreading the Good News of the Gospel throughout Indonesia.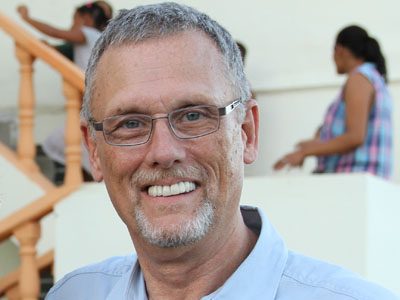 Craig Muller
United States
Craig Muller is a founder of Kinship United (formerly Warm Blankets Orphan Care International), with a mission to restore childhoods in Christ to children permanently left parentless by war, disaster, or disease.
Prior to entering full time ministry and missions in 1998, Craig served in Senior Management and CEO positions in three International corporations and authored the corporate change behavior model published in his book "Oh Behave." His commission is to make disciples, and his commandment is to love.
He has co-labored with leaders of orphan missions in multiple countries to establish a sustainable model for orphan care centers in over 100 remote locations in Asia, Africa, and Central America.
Craig is the visionary behind Kinship United and our unique model for family-based Kinship Projects. His development with leaders of orphan missions in multiple developing countries has resulted in the prevention of child and women trafficking and the long term care of orphans in Church-based Kinship Projects. These Kinship Projects have developed into one of the world's most stable models in processes of anti-trafficking steps to rescue and care for orphans.
Craig is responsible for leading the day-to-day operations of the ministry and key staff, serving as the liaison with in-country partners, representing the ministry in the United States and worldwide. Craig also serves as spiritual leader for the ministry through Bible study, prayer, and discipleship.