Donate With Your DAF
Support Kinship United by recommending a grant through your donor-advised fund
How to Donate
1. Find Your Fund
Use the search bar to locate your sponsor organization, and log in to your account.
Don't see your sponsor organization on our list? Contact us to let us know so we can add it.
2. Enter Our Info
Search for Kinship United using our employer identification number (EIN): 
36-4395095
And please have checks made out to:
Kinship United
5105 Tollview Drive, Suite 155
Rolling Meadows, IL 60008
3. Submit Your Request
Choose a grant amount and submit your recommendation to your sponsor. Please ask that your name and address or email be included - we would love to be able to reach out and express our gratitude for your kindness and generosity!
Why Support Kinship United?
Kinship United's mission is to create safe Church Homes for some of the world's most vulnerable people: orphans and widows seeking refuge from conflict and poverty.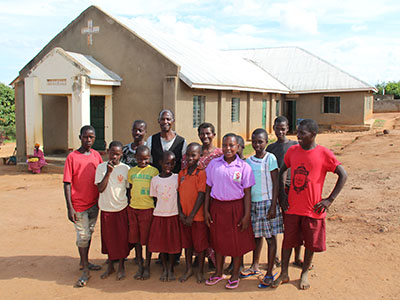 By engaging indigenous pastors in forming these Kinship Projects, our organization gains insight into the specific needs of the local community. And because other contributors and foundations underwrite our overhead costs, 100% of your gift goes to where you designate.
Here are some needs we can address:
Food and clean water

Education

Medical services

Child trafficking prevention

Mosquito control

Emergency response

Music as therapy
See a full list of our humanitarian activities here in our giving catalog.
What Can My DAF Do for Kinship United?
Because of the increasing popularity of donor-advised funds, grants from DAFs are now an essential part of the lasting change our supporters make in the lives of widows and orphans. Your gift ensures we can continue that work without interruption.
You may also name Kinship United as the beneficiary of your fund during your estate and legacy planning.
Don't have a donor-advised fund yet? Read about the benefits of opening a DAF, from serious tax savings to hassle-free asset management.
Kinship United often posts content and opinions that are of interest to the philanthropic community that supports Kinship United's mission. Nothing published by Kinship United constitutes an investment recommendation, nor should any data or content published by Kinship United be solely relied upon for any investment, tax, legal or financial decisions. Kinship United strongly recommends that you perform your own independent research and/or speak with a qualifying investment professional before making any financial decisions.