"Everything that is done in the world is done by Hope."
-Martin Luther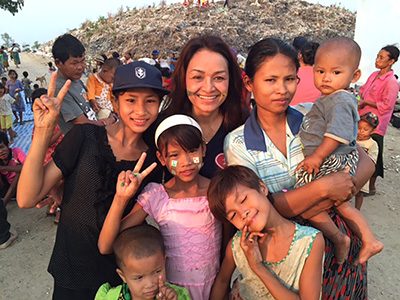 Thousands of refugees from Myanmar have moved into 9 different refugee camps located along the western border of Thailand. Myanmar civil wars over the years lead the people to travel down to Thailand after their villages had been destroyed by the Myanmar army. Continued violence in Myanmar makes it impossible for the refugees to travel back home, so the refugee camps have become a permanent home for them.
Can you imagine being forced out of your home by violence? Being forced to move into a refugee camp in a different country, and never knowing when or if you would be able to return home? Can you imagine the loss of hope you would feel in that situation?
While the basic needs of food, water and shelter are met in the refugee camps there is little else given to the refugees. The living conditions are basic and unsanitary, most of the families living in or close to landfills. And as there is no work for the adults and limited education for the children many refugees have fallen into despair.
The despair that the refugees feel has caused them to choose negative solutions for their future. Young girls in the camps are being deceived into the sex trade as they are presented with "opportunities for a better life". And many of the adults are also choosing harmful solutions to employment and recreation.
Our Kinship Project in the area is becoming a place of hope for the refugees. The Project is currently taking care of orphans from the refugee camps and hopes to do even more for the children of these camps by giving them a school to attend. A school could provide all the children and the families in the area with so much hope!
Join us in giving hope to the refugees in Thailand:
Pray for the refugees of these camps. Pray that they would have hope for their future. Pray that they would know they are significant in the eyes of God.
Join us in helping provide the refugees with hope by giving them a chance for education! Give to our Thailand Most Needed fund to help us build a school for these children.