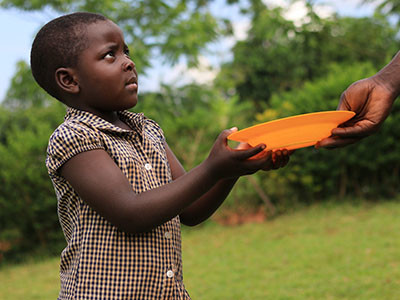 Kinship Projects around the world have to get pretty creative when it comes to helping orphans and serving the desperate people in their communities.
They stretch the support you give them to the max by living simply, sharing a lot, and making sacrifices. But when Kinship Leaders are in the thick of orphan rescue and have to make quick decisions about caring for these precious children, it all comes down to the basics: food, water, and shelter.
And on Wednesday, October 16th, one of those basics will stand front and center on the world stage. Because October 16th is World Food Day.
According to the Food and Agriculture Organization, 150 countries worldwide host hundreds of events and outreach activities in honor of this day. The events are a tool to bring attention to world hunger and encourage action to achieve #ZeroHunger. And, of course, each year there's a new theme. This year's theme is, "Our Actions are Our Future: Healthy Diets for a #ZeroHunger World." (FAO.org).
How Does Hunger Affect the Children Who Join Our Kinship Projects?
Starvation is prevalent in the communities we work with. And it leaves lasting scars on children struggling to survive.
We often hear stories about kids rummaging through the garbage to find food for themselves or their siblings if their families can't afford to feed them. New kids coming into a Kinship Home often need encouragement and reassurance of reliable food sources before they fully trust their new family.
Building that reassurance and trust takes time and love from attentive caregivers. It takes a "tour" of their new home to show children all of the food on hand. And sometimes, it even takes a loaf of bread to sleep with at night to ease any lingering fears children might have that they'll have to go another day with an empty tummy.
Your support gives Kinship Projects and the children who call them "home" the food security they so desperately need.
What Can I Do to Keep Kinship Projects on a Path to Food Security?
Two ways Kinship Projects are working to achieve more sustainable food supplies are through farming and livestock. With the right tools, a Kinship Project can grow a plethora of fruits and vegetables to help feed their Kinship Kids and hungry community members.
And when a Kinship Project is blessed with the gift of a cow, a goat, or chickens, they can gather milk and eggs whenever they need them!
Another way to keep Kinship Kids healthy and fed is to give them the gift of food security by sending and distributing nutritious meals. Because of kind-hearted individuals like you, about 3.8 million meals were sent over the last fiscal year. Can you believe that? And you can do it again this year!
With your support, Kinship Projects can keep their children fed and teach them life skills to adapt their agriculture to be more fruitful and consistent.
Now It's Your Turn
Now that you know about World Food Day, what are you going to do about it? What steps are you going to take to serve the hungry? We'd love to hear! Tweet us @KinshipUnited with your ideas. And visit FAO's World Food Day website for more information.
Sources
"Home | Food and Agriculture Organization of the United Nations | World Food Day | Food and Agriculture Organization of the United Nations" http://www.fao.org/world-food-day