"A child without education, is like a bird without wings."                 
- Tibetan Proverb
While visiting a primary school in Siem Reap, Jack and other members of Kinship Cambodia asked the students what they want to be when they grow up. Many of them said – a teacher, mechanic, soldier, police officer, doctor, singer, or a monk. One boy's hand shot up in excitement and he squealed that he wants to be a Khmer doctor who will take care of people all over the world.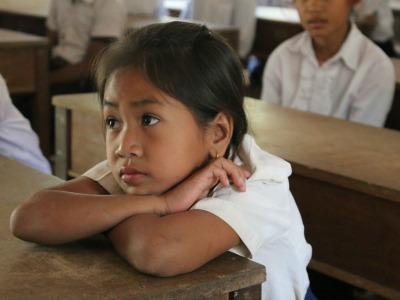 These career aspirations may not seem like anything new to you, but for village kids in Cambodia, they are truly reaching for the stars.
The country of Cambodia is working to improve their education system, but in the poorest, most desperate areas of the country, access to a quality education is still lacking. Most Cambodian villages have a primary school, but less than 10% of villages have access to secondary education. This makes it very difficult for students to get an education any further than 5th grade!
Siem Reap is one of the poorest provinces in Cambodia with the poverty line set at $0.25 a day. Because they have little to no income, parents can't afford to send their children to school. They need their children to start working, even as early as age 5. And to make matters worse in rural Siem Reap schools are few and far between. This means that many students have to walk miles a day just to go to school.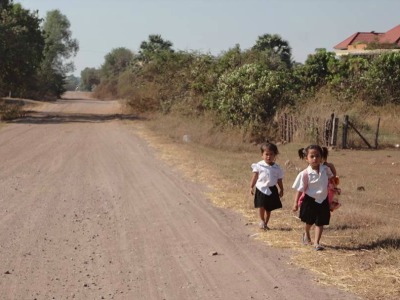 Combine the intense poverty of the people in Siem Reap with the limited access to public education, and it seems a young person has no hope to complete a valuable education. These students either have to be very dedicated to their education, with the support of their families, or they end up dropping out of school and the vicious cycle of poverty continues.
Jack and other members of Kinship Cambodia visited Siem Reap so they could encourage the students who are in school to continue with their education. But Jack never expected he would be the one who was encouraged by the children's hunger for education. Jack witnessed how much the students valued learning and saw their desire to make it a priority in their lives. He met many children who walk long distances just to get to school each day, and saw they're devotion to learning no matter the cost.
And remember the boy who wanted to be a doctor? Everyone in the room was overjoyed to hear his dream and encouraged him to work hard to achieve it.
Will you also encourage the students in Siem Reap by praying for them? Pray they will continue to have a devotion to their schoolwork. Also pray Kinship Cambodia will continue to grow relationships with the children of rural Siem Reap and that the families of the children will become involved in the Kinship Church.