TODAY is the longest day of the year. This year has felt dark, but the sun is shining brightest on this day, and you can help shine some extra light and love too. Will you help provide food for hundreds of orphans and widows in Uganda, so they have enough to eat during the next two months?
Floods, Locusts, Pandemics, Oh My!
Uganda has been ravaged by floods which have destroyed homes and crops. Locusts are hatching in record numbers and are eating what little food people are growing in their gardens. And a global pandemic has completely closed their borders to international aid such as container shipments of food.
Kinship Projects' usual food supply and rationing is completely out the window. At first, pastors were sharing extra food with starving people in their churches and communities, and now they're running out and we can't get them more fast enough. If something doesn't change, and quick, Kinships might have to cut back to only one meal a day for the orphans and widows.
Maize, Beans, and Rice
We need to act fast to buy food for our Kinship Projects in Uganda, before it's too late. Maize flour, beans, and rice are all accessible at local markets, or can be driven in to more remote Kinships.
Long-term solutions are in the works as more containers become available, but orphans and widows need help today. If you donate right now, kids in Uganda will have food on their plates in only a matter of days.
Today, June 20th, we want to raise $15,000 which will be enough to purchase food for all of the Kinship Projects in Uganda for two months.
How Will Your Gift Make a Difference?
Your gift towards our Day of Giving goal of $15,000 will provide food for all our Uganda Kinship Projects for two months. This includes the transportation costs involved in driving to purchase food and deliver it to more remote Kinship Projects too. 100% of your donation will feed orphans and widows in Uganda.
Who Will Your Gift be Helping?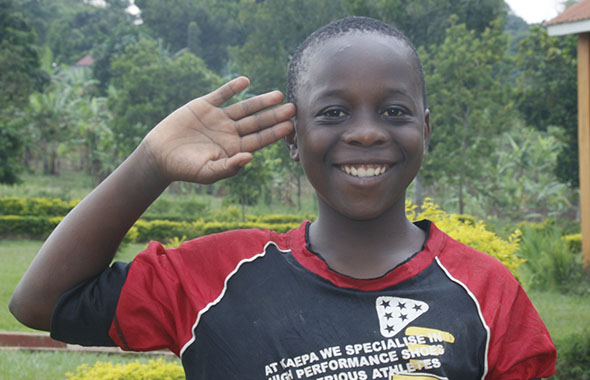 Meet Peter from the Bakka Kinship Project
If you met Peter, you'd know right away that he is a hard-working young man. He's always working on something around the home, and encouraging his brothers and sisters to do the same. You'll often find him helping in the kitchen, whether he's cooking, washing dishes, or mopping the floor. He has a powerful inner drive, and one day he wants to be a farmer so he can help feed the needy and helpless.
Peter's parents separated when he was very young, and he stayed with his dad and stepmother until his father passed away when he was only seven years old. Without a mother or a father, Peter's only hope was the Bakka Kinship Project in Uganda. And now, he is thriving in school and looking to take care of others.
But right now he needs you to take care of him.
Thank you for opening your heart and caring about orphans and widows in Uganda.
How You Can Help...
Donate
Make a gift today, and 100% of your donation will feed orphans and widows in Uganda.
Share
Spread the word to get others involved in this special day! Share our Facebook posts, write posts of your own, and share this page!