"Rejoice always, pray without ceasing, give thanks in all circumstances; for this is the will of God in Christ Jesus for you."
-1 Thessalonians 5:16-18
How well do you follow this teaching from Paul? It can be difficult to "rejoice always" when your children are fighting. You might forget to pray while keeping up with your busy schedule! And you might not feel like giving thanks when you get a negative diagnosis from the doctor or can't find the money to make ends meet.
None of these things feel like the will of God in Christ Jesus for you. Or at least you don't want them to be God's will.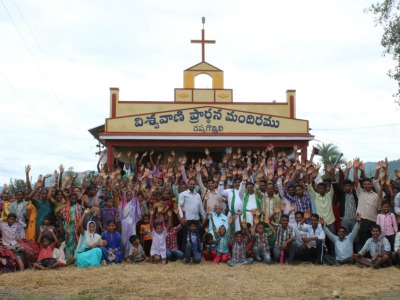 The people in our Indian Kinship Projects understand these feelings, because they are also facing hardships just like you. The caste system makes sure people born into poverty die in poverty.  And orphans and widows are pushed aside because they are seen as deserving the life they were born into.
The status quo of the country is to leave people alone in their hard circumstances because that is where they deserve to be. But our Kinship Churches in India have decided to live outside of the status quo and to care for the less fortunate who live around them. And they are using this verse as a model!
They are rejoicing for what God has done in their communities. God has given them the opportunity to open 3 new Churches in the state of Andhra Pradesh all during the month of July!
The Indian Kinship Projects also know how to pray without ceasing. They even had a National Day of Prayer on July 15th to honor the day their ministry was founded and to pray for the ministry going forward.
Below are few things they prayed about (Will you commit to praying with the people of India?):
Pray love and peace over the nation of India

Pray that all Indians might feel as a family

Pray that terrorism might be abolished

Pray the people in authority might lead India in the right direction

Pray that all religious differences might be removed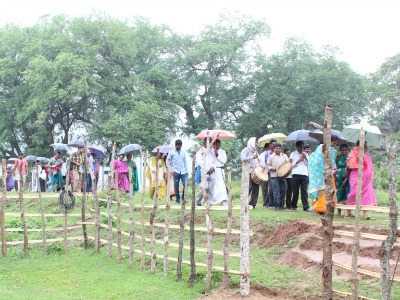 And lastly the Indian Kinship Projects know how to give thanks in all circumstances! If it rains on their parade (or the opening ceremony of their new church) they will still give thanks to God for all he has done!
They believe God has a will for them and for the people of India. And more than anything they want their neighbors to know who Christ is and how much he loves them, no matter what circumstances they might find themselves in!
So next time you have trouble rejoicing, praying, or thanking, just remember your Christian brothers and sisters in India. Hopefully their commitment will encourage and strengthen your faith! Learn more about how we care for physical needs and spiritual needs around the world.