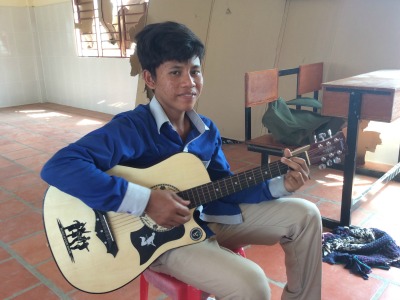 Vouch Phearak spent most of his life working to be a Buddhist monk, but the teachings of Buddha never stuck.
When Vouch was a little boy his parents sent him to Krang Krouch temple. As a young child, everything in Vouch's life was centered on learning the Khmer scriptures. He would even wake up at 3:00 each morning to start memorizing scripture. But no matter how much time Vouch spent with the scriptures he never felt a spiritual connection.
Not only did little Vouch have to get up at 3:00 in the morning to start memorizing scripture, but even worse – he was abused by his teachers! Vouch and the other young boys were struck with a stick by the head Monk when they didn't pay attention in class or hadn't memorized a scripture that had been assigned. And these growing boys constantly went without dinner in order for them to "focus" on learning the scriptures.
And the goal of the school was that the students would memorize all of Buddha's scripture. Every single word.
It's safe to say Vouch didn't enjoy his time at Krang Krouch temple. He would dream of the day when he would be able to sleep in, play sports like other children, or eat a good hearty dinner.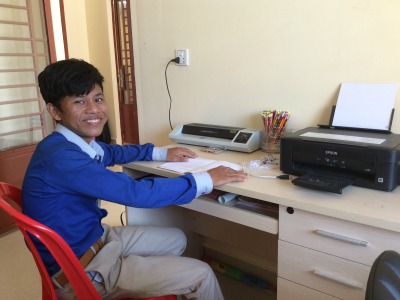 At fifteen-years-old Vouch had to leave because his parents could no longer afford to pay for his schooling. He had learned a lot about the Khmer language and about Buddha's scriptures, but he hadn't internalized any of it. Vouch didn't feel Buddhist.
Shortly after leaving the temple Vouch met Pastor So Mein, who introduced him to Jesus Christ. Unlike learning Buddha's scriptures, when Vouch heard about Christ he felt an immediate spiritual connection. And Vouch accepted Christ as his savior that very day!
Vouch left Buddhism and joined a local Christian international school. He is currently a teaching assistant for Pastor So Mein. Vouch is very active at the school and dreams of being a pastor, but for now his main hope is that every person in his family will come to know Christ as their savior, just like Vouch has.
Will you pray for Vouch's family to come to Christ? And for Vouch to continue to come closer to Christ as he continues to learn and serve him?