"Thank you so much, dear donors, for the heart of giving that you have. You have brought joy and hope to this mama." – Elizabeth, Kenyan Field Team Member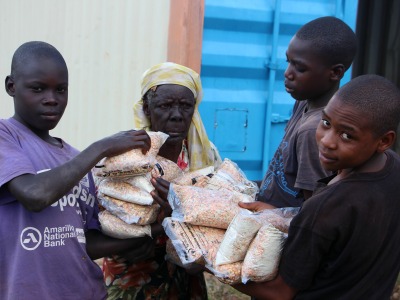 One of the best parts of giving gifts is to see the other person's reaction. Their face breaks into a smile, a laugh escapes their lips. In some cases, maybe tears well up in their eyes.
As a contributor, you give some of the most meaningful gifts. But you don't always get to see the priceless reactions from the people who are touched by your generosity.
So I'd like to introduce you to Amina Makheti. Amina lost everything after extreme violence broke out following an election in Kenya. Finding food was a daily struggle. Amina searched for any job she could find to buy food, which mostly resulted in manual labor. At her old age, she strained to complete the tasks, and her work suffered. No work meant no food.
One employer refused to pay her good money but instead gave her alcohol and petty cash as compensation. Without food or a steady income, Amina was on the tragic path to starvation, alcohol addiction, or even death.
Until you came along and changed everything for her.
Your gifts made it possible for Amina to have enough to eat every day. Knowing that she can eat today and still have food tomorrow means the world to her.  She rejoices in the Lord for the energy the food gives her and prays that God blesses the people that brought the food all the way to her….that's you!
So without further ado, I'd like you to experience the best part of giving a gift:  Amina's reaction.
You can continue to spread the celebration. Donate today to give more meals, fill more stomachs, and see more smiles.
And most importantly, thank you for caring about people like Amina. She wouldn't be alive without you!