When eyelids grow heavy and yawns abound, you know it's time for bed.
You tuck in your little ones and kiss their cheeks as nighttime prayers are said.
With Teddy snuggled beside them, eyes close and sleep descends.
They dream of things not often seen as another day ends.
This seemingly normal nighttime routine doesn't always happen in our Kinship Homes. Rather than Teddy, some of our kids wish for a different comfort at bedtime. Walking through their halls, you often notice some of the newer children with loaves of crisped bread nestled underneath their arms.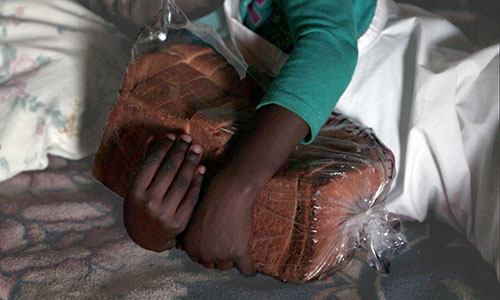 Many of our new kids still worry about when they'll have their next meal. Keeping actual food by their side as a reassurance of more food in the morning is their only relief. The longer they're with us, the less they need this tangible sense of security, and the older kids now know to direct the new children straight to the pantry before bed their first night.
With your generous donations, you can keep their bellies full. Rest assured that 100% of your designated contributions go towards feeding these kids, so you are helping them directly.