Social distancing, hand sanitizer, and personal protective equipment are crucial to fighting the spread of the COVID-19 pandemic. But a resource that communities also need in abundance is education.
The population of the Dominican Republic is far smaller than the United States, so the number of cases seems low. However, COVID-19 is very present in their small communities.
Along with it has come a surge of fear and misperception. Some refuse to leave their homes, while others refuse to wear protective equipment altogether.
One of Kinship United's in-country partners in the Dominican Republic is our friend Giovanni. He's part of the Cayacoa Kinship Project and sees first-hand how the pandemic is impacting the health and well-being of the surrounding community.
Giovanni said the fear of getting infected and then shunned by friends, family, and community is "worse than COVID itself." People are so afraid to be infected and alone, they will hole up in their homes or deny the threat completely.
Addressing Misperceptions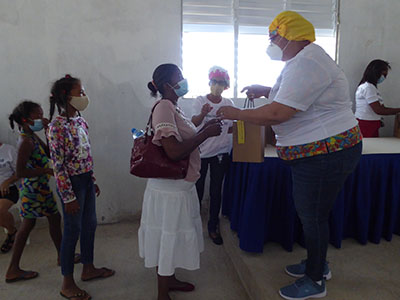 The local church hosted a seminar for the community to clear up some of these concerns. Giovanni invited two doctors to speak and answer questions. One of the doctors specializes in treating COVID-19 patients. It was held at the church, and members of the community attended.
They had so many questions.
And the doctors and church members were ready to answer.
The doctors answered questions about re-infections, infection duration, time and reasons to self-isolate, treatment medication that is being used, and vaccines on the horizon.
Many attendees asked about the home remedies that have been passed around.
A church member named Mari had heard the virus could be treated with a tea made from aspirin, lemon, and honey. Some others mentioned they heard of remedies of strange ingredients like cilantro and garlic juice!
The doctor made it clear that he only endorsed medicine and protective equipment, not home remedies. He explained all the best medical practices to protect from the virus.
Another concerned woman spoke up, standing alone in the back, wearing her mask.
Her husband has COVID-19, and she wanted to know how to avoid getting sick while taking care of him. Everyone in her neighborhood said she should stay as far away from her husband as possible, but she still takes care of him. The doctors encouraged her, and explained the types of protective equipment she could use to protect herself while caring for her husband. She was so relieved to be told she is doing the right thing!
A Sense of Relief
At the end of the seminar, the guests were provided with free personal protective equipment. Everyone went home with their questions answered, feeling more equipped to handle this pandemic.