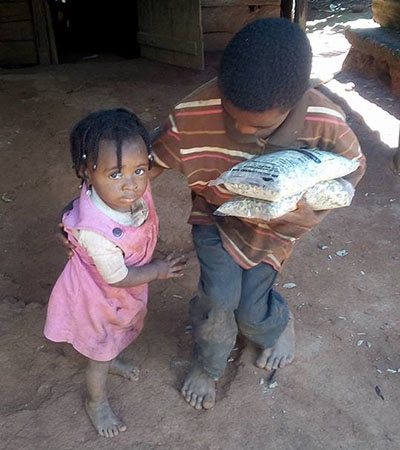 A little boy in the Dominican Republic looks down the dirt road that crosses in front of his home, a small wooden shack. He sees a group begin to gather as people from the church down the road start passing out bags of food.
With bare feet and dusty and dirty pants, he walks with his little sister towards the crowd. This might be his only chance to get something for his sister to eat for the week.
And he'll eat whatever's left.
A little later, his left hand, barely big enough to hold a softball, clutches two large bags of food against his chest. His right hand gently, and protectively, rests around his baby sister's back.
He's the only one left to take care of her.  But he's still a child himself.
Standing there in her sweet pink dress, also covered in dust and dirt, she reaches for her big brother, her hero, with her tiny hand. When did his carefree childhood disappear?
When did their futures become so uncertain?
At Kinship United, it's our mission to take care of the children whose childhoods have been stolen from them. Usually by poverty, war, or disease. We look after the children who've been forced to grow up way too fast. Children like this little boy…
And we let them be kids again.
You can be there for that big brother or big sister who is stressed and heartbroken with worry for their younger siblings. You can make sure they're ALL taken care of in a loving Kinship Home, and give big and little siblings all the chance to just be kids again.
Will you help shoulder the burden for a big brother or big sister today?
It's as easy as 1, 2, 3…
1) Decide that you want to be a hero today.
2) Choose whether you'd like to donate online, over the phone, or by mail (click here for our contact info).
3) Then make your life-saving donation!
It's really that simple to make a difference in the life of a child who is struggling to survive. So are you ready to help out a big brother or big sister today?