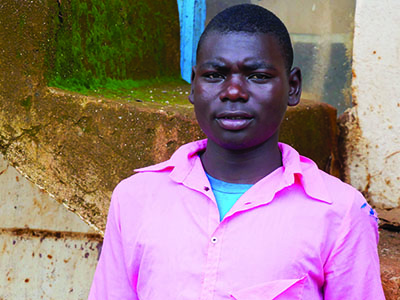 Emmanuel's parents loved him and his sisters. They worked hard to provide for their children, doing the only thing they knew how: brewing and selling alcohol.
But this made for an unstable life for Emmanuel. His parents were in and out of jail constantly, and their run-ins with the law cost Emmanuel's father his life. His mother died shortly after in a car accident.
Emmanuel's life had completely crumbled. He worked on small farms for scraps of food. His oldest sister got sick and died too. The only future Emmanuel could imagine was to just survive for one more day.
Finally, a good Samaritan took Emmanuel to the closest Kinship Project. And his future opened up.
With a safe home life and the chance to go to school, Emmanuel started to remember the future his dad had dreamed of for him. That he wouldn't have to struggle through life like he did. That he would make it big someday. Neither of his parents ever went to school, so Emmanuel was determined to do his best to become the man his father knew he could be.
Today, Emmanuel is getting ready to start high school. Someday, he wants to be a pilot.
What could you do to invest in Emmanuel's future and help him reach his dreams? Are you able to make a one-time gift of $160 to send a child to school for a whole year? Or give $45 to buy a backpack and school supplies for an orphan?