Our world is simultaneously in recovery and actively fighting on many fronts. In this stressful time, it's essential to take a moment to celebrate all the good. Here at Kinship United, we celebrate the good you make possible every single day.
Rural, impoverished communities were unprepared for the pandemic far before it ever began. We hoped to see more recovery by now, but the global health crisis continues.
That's where you came in. You provided the food shipments, shelter, education supplies, and more to help Kinship orphans and widows thrive, through ongoing uncertainty and extreme scarcity.
Despite constant struggle, God gives us reasons to celebrate. Kinship Kids have started their new school year. The Nyasi Kinship Project in Kenya celebrated a public rededication of their church. The Cayacoa Kinship Project, featured in the last newsletter, received an outpouring of support, and can now fix their roof and walls.
One of the biggest reasons to celebrate happened when you helped to send a massive shipment of medicine to the Lumut Kinship Project in Kenya. Equipped with this shipment, and with the help of health care workers and local pastors, a traveling medical camp was set up to distribute this medicine to not only the Kinship Kids and widows at the Lumut Kinship Project, but also to four nearby rural communities.
Medicine is rare in rural communities due to lack of medical professionals, supplies, and clean water. Many are trapped in lives of extreme poverty, illness, and malnutrition. Diseases and parasites spread quickly, especially among children.
The Lumut Traveling Clinic was able to treat an astounding amount of people: over 1,500, to be exact!
You can read more about the journey and impact of the clinic below.
And the prayer of faith will save the one who is sick, and the Lord will raise him up." (James 5:15)
There are more lives to change and more sickness to treat. There will always be a need.
Similar to how the world might be in an endless recovery from recent scars, all we can do is continue to pray, do our best to provide, and take time to celebrate moments of healing like these.
You made these astonishing impacts possible. Your generosity throughout this pandemic, and far before it, is a true blessing in the lives of these children.
We pray you draw inspiration from their strength, just as they draw hope from your generosity.
Lumut Traveling Clinic Treats Hundreds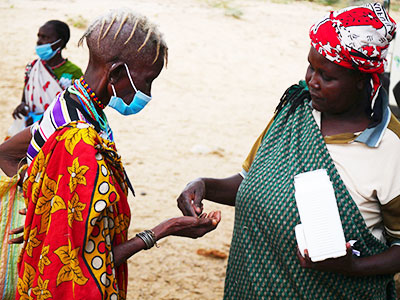 Thanks to your incredible gifts, the Lumut Traveling Clinic was able to reach four rural Kenyan villages. The head count was 283 people from Kakreshun village, 389 from Kapeni, 502 from Karia, and 376 from Kamanau, plus the orphans at Lumut, for a grand total of over 1,500 people treated.

The journey between the four villages wasn't easy. Roads are rough and caked with deep mud. Our team even traveled through flooded muddy waters, praying for God's protection as they drove through.
At each of the four villages, people of all ages flocked for treatment. Children, mothers, the elderly – it seemed that no two people were alike, but what they all had in common was suffering, hope, and a desperate need for treatment. Nobody was turned away. Many arrived critically ill; the medicine got to them just in time.
One of the biggest health problems in rural villages stricken by poverty is parasites and worms. Every child who attended the medical camp was dewormed. Many were also malnourished and dehydrated.
Another precious medicine provided by the traveling clinic was malaria treatments. As the health care professionals at the clinic talked to the influx of patients, they learned that malaria was so devastating, it caused a panic and a spike in the birth rate. It isn't uncommon to see a young mother with four children and another on the way. She says she wants ten or twelve children, in anticipation that several will die of malaria or malnutrition.
As the clinic finally concluded after three long days, there was a common prayer among the sick and needy people they had treated. They pray for food, for the good health of their children, and for a permanent clinic in their village one day.
The clinic saved lives, just in time. You saved lives, because you made it happen. Your gifts funded the medicine, and the shipment and distribution of the medicine. You saved lives.
Your calling to support Kinship United is what made these astonishing impacts possible. There is no greater service to your fellow humans, and no greater service to God, than saving a life. Your gifts enabled the Lumut Traveling Clinic to save hundreds of them.
Kinship Projects change and save the lives of thousands of orphans and widows. Your generous gifts have saved, and will save, countless more.