Kinship is the spirit of togetherness. And Kinship United works to unite individuals who feel alone and outcast in their society.
There are very few people who feel more outcast and alone in Kenya than young, single mothers. Luckily the Ephraim Kinship Project in Kenya has a ministry that cares for the loneliness of young, single mothers.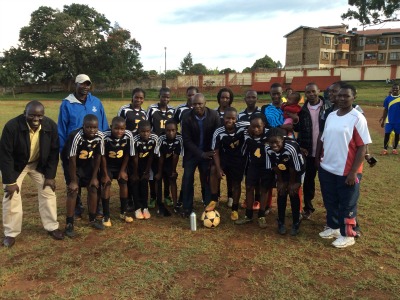 One unique avenue of the young mothers' ministry is a soccer team. Yes, a simple sport is making a difference in these women's lives.
Through the group of young, single mothers a soccer team was created. Not only is this a way for the women to come together in Kinship, but they are also really good! They have been in the lead nationally for their league, winning each of their games with at least 12 points more than their opponents.
The young women in the group were once rejected by their relatives after becoming pregnant. They are all living in the slum area of Kitale because of the rejection of their families. But now they have something to look forward to each week. They have a sport they can all share, and they are doing so well that some of them might even be able to qualify as international players on the Kenya Women's Soccer Team.
It's so amazing to see God use a simple sport to change lives.
Will you join us in praying for these young women throughout the rest of their soccer season? Will you also pray for them that they continue to learn and see God's love through the ministry of the Ephraim Kinship Project?