Christmas time is usually filled with happiness, hope, and love. But for a starving child who doesn't know where their next meal is coming from, Christmas is just another day filled with hunger and fear.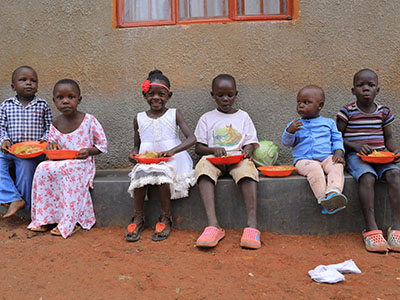 The Buloba Kinship Project in Uganda made sure that wasn't the case for the children in their community this past Christmas. The Kinship Leaders and church members at Buloba hosted an outreach program to help children from the close community who couldn't afford a special Christmas meal.
In the true Kinship fashion of offering people a place they can belong, Kinship Leaders made one big meal for the Kinship Kids and their young neighbors to enjoy together.
And this meaningful program is only growing. This is the second year Buloba hosted the celebration, and they saw an increase in the number of community children who participated this year.
The Reach of Your Impact
Your gifts truly have a ripple effect on our Kinship Projects. Your support not only cares for the orphans and widows who call each Kinship Project "home" but also impacts the children and families in the surrounding communities!
If it weren't for you, our incredible supporters, Kinship Projects like Buloba wouldn't be able to care for their Kinship Kids or create a special bond with their communities as they do now. And the feeling of community runs deep through the church at the Buloba Kinship Project: church members pulled their resources together all year to help contribute to this special Christmas meal for the children.
You helped make it possible to build this feeling of unity and community and help the orphans at this Kinship Project AND the children living around it. Thank you for your kindness and dedication. You are changing their worlds.
Are you interested in supporting an individual Kinship Project? Check out our Kinship Projects, or contact us for more information.