Do you remember your first Bible? Perhaps you still own it. Do you remember flipping through those thin pages, reading the Word of God, and feeling connected with Him? Every verse taught you something new about Jesus, about life, or about the person you wanted to become.
But what if your Bible wasn't written in your language? I think we can both agree you wouldn't have felt that same spiritual connection while leafing through it.
You can make sure a child just starting out on her spiritual journey has the right tools for her walk: a Bible in her own language! Books are often too expensive for many Kinship Leaders so a translated Bible from you would be an absolute luxury for them.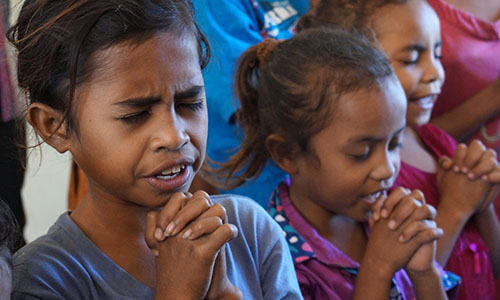 Will you make it possible for a Kinship to share God's Word with their children? A monthly gift of $45 to Spiritual Growth will provide them with translated Bibles and more!
When you donate, you'll also help Kinships develop community outreach programs, train worship leaders, and organize Baptism celebrations! You can pave the way for a Kinship to share God's Word within its community and introduce it into the hearts of the children living there.
What do you say? Are you feeling called to give the gift of the Word to Kinships around the world?