There's no denying the fact that music has a way of moving us that mere words cannot. Music can bring us together, heal wounds, and offer hope to those who need it most. And this rings especially true for Mugalu Elijah, a 22-year-old Kinship United alumnus who calls the Kireka Kinship Project his home.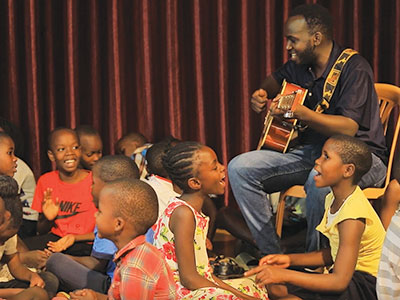 Elijah's love for music started at the age of eight when he first heard the caregiver at his Kinship Project singing hymns at their local church. From that moment on, he knew that music would play an important role in his life. Fast forward to today, Elijah is using his passion for music to inspire and teach others, especially young people.
As part of his mission to spread joy and hope through music, Elijah leads worship at the Kireka Kinship Project and teaches music at a school in the Kinship's community. Through his teaching, he hopes to impart important life skills such as teamwork, creativity, and self-expression to his students.
For Elijah, music and worship are closely intertwined. He draws inspiration from various Bible verses that emphasize the power of music in spreading love, joy, and peace.
Psalm 96:1 reminds us to "sing to the Lord a new song; sing to the Lord, all the earth," while Colossians 3:16 encourages us to "let the message of Christ dwell among you richly as you teach and admonish one another with all wisdom through psalms, hymns, and songs from the Spirit, singing to God with gratitude in your hearts."
These verses, and others like them, reinforce Elijah's belief that music can be a powerful tool for sharing the message of hope and love that lies at the core of the Christian faith.
At Kinship United, we believe that every child deserves to experience the healing power of music. Your support can help make that possible. Your contributions can help us provide music lessons and instruments for our children, empowering them to express themselves, develop their talents, and pursue their passions. Please make a gift today to help spread joy and hope through music!
Written with Eddie, our field team member in Uganda.