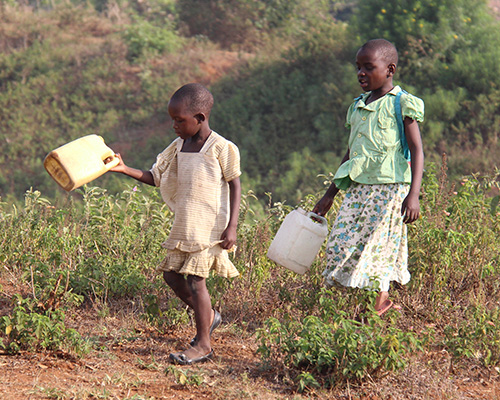 Two young girls walking alone are the perfect targets for human traffickers hunting for their next victims.
Why are they alone? Their family ran out of water so they had to go get more.  Jerry cans empty, two sisters embark on the hours long journey in the blazing sun just to refill with more water. They're like sitting ducks.
So how can you keep the two girls safe from trafficking? Simple: when you support clean water solutions for Kinship Projects worldwide, you will dig deep water wells right in the community that pump clean, bacteria-free water.
This eliminates that long, dangerous journey and significantly decreases the risk of the two girls becoming the next ones missing from their village.
By offering clean water to an entire Kinship Home and community, you're protecting the children, caregivers, and community members from traffickers who might strike on the road. And of course, you're saving countless lives from deadly waterborne diseases!
Will you help protect young girls like them and give a life-saving gift to Clean Water Solutions today?