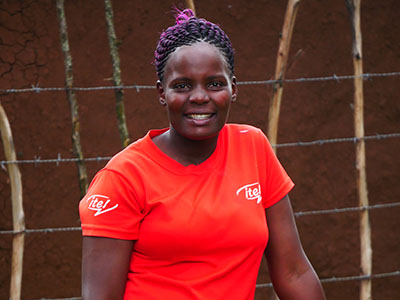 Maureen is a widow and a caregiver at the Nyasi Kinship Project in Kenya. Even at such a young age, her life's journey has taken her from happiness to loss and from solitude to belonging.
After Maureen finished her final school exams, she faced immediate pressure from her stepmother to get married. When she did marry, it was to a man she loved very much. She felt so blessed to have a loving husband who she adored.
Tragically, death cut her happiness short. Her husband died after only four happy years of marriage.
Maureen felt lost, angry, and sad. Her family quickly pressured her to re-marry, but she couldn't focus on such a thing after losing the man she loved. And she could no longer live with her late husband's family.
So she had nowhere to go. She was completely alone.
Rediscovering Hope and Healing in Kinship
The Nyasi Kinship Project stands in a village of the same name nearby. With nowhere else to turn and pressure coming from every direction, Maureen went to Nyasi.
And the Kinship Project welcomed her with open arms.
Maureen started out cleaning around the Kinship home, but she quickly discovered that her true passion was in child care and teaching. The Kinship Kids have filled her heart with love. And she's found a purpose and sense of happiness, where she thought it would never be possible.
When she felt she could never love again, she found herself in the Kinship Project where love surrounds her every day.
Maureen prays every day that she can be a blessing in the children's lives. At the same time, they're a blessing to hers.
Circumstance may tear you from happiness, and you feel lost and astray -- until you realize you have been on God's path all along.