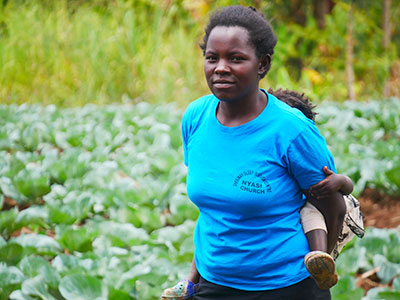 Linet was living her dream life. She married her beloved husband in 2016. They lived happily together in Nairobi, Kenya, and the couple was eventually blessed with two beautiful girls.
Linet's husband worked hard to provide for his family and give them the best while Linet took care of their children and their home. They were happy… until tragedy struck just five years later.
"I never knew I would be a widow at this age."
Linet's husband died in January of 2021, leaving her heartbroken and shaken. She never imagined being left alone with her two children so young. "I never knew I would be a widow at this age," Linet said. She tried her best to keep her family living in their home in the city. She washed clothes for people to earn money. But the wages she brought in couldn't feed her children and pay rent at the same time.
So Linet made the difficult decision to return to her parents' home.
Taking a Chance
Unfortunately, life with Linet's parents didn't offer any relief, as her parents had struggles of their own. During Linet's darkest days, she noticed that her daughter would disappear from home and return with some food in a dish and a smile on her face. She soon realized that her daughter was visiting their neighbors at the Nyasi Kinship Project for one or two meals a day.
Linet decided to join her daughter for one of her visits to Nyasi. She saw how much her daughter wanted to stay with the other kids when it was time to go back home. So Linet took a chance and explained her situation to the Kinship Home Parents.
The Kinship Home mother welcomed Linet and her children with open arms, relieved to have another caregiver to help around the Kinship Home.
Linet is incredibly grateful that she and her children have found a safe haven at Nyasi. She now has the reassurance of food, shelter, and a loving Kinship family.
Thank you so much for making it possible to offer safety and support to widows who are struggling to survive. (And extra food to nourish needy children in the community, like Linet's daughter at the time!) Without your support, women like Linet would have nowhere to turn to for help. Your support gives them the opportunity to heal and experience immense love in a safe space. Thank you for all you do.