One of our favorite growing outreach ministries is our Women of Worth Bakery Outreach! This special program gives local women baking lessons and access to the supplies they need on a weekly basis. It's also creating a beautiful community of women who come together every week not just to bake, but also to support each other.
And for some of these women, this is the first time in their lives that they've had a group of women who care about them like a sister. But I don't want to just tell you about it...
I want to show you.
So here are two beautiful stories about how this incredible program is changing lives. Your donations and prayers are making a difference—they're equipping these women with the skills they need to change their own lives. And it's your involvement that's been making these stories possible!
Joan's Story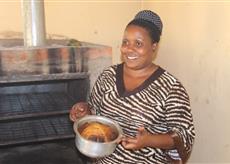 When Joan was only 16 years old, a family member forced her to marry a man who was 17 years older than her. She was an orphan in Uganda, living with her aunt. When her aunt couldn't afford to send her to school anymore, she arranged a marriage between Joan and this older man.
Joan didn't have much of a choice. So she married him.
What else was she supposed to do?
It was the only way she could see to gain any sort of stability — this man could take care of her financially and provide a place for her to live. And he did.
But only 10 years later, he died, leaving Joan with five children that she had to look after. And no one else to help her.
Her youngest was only one year old.
She tried to marry again after her husband's death, but never could. During this time, Joan had a horrible reputation in her village. It was whispered that she was a prostitute, and people accused her of trying to steal husbands away from married women. Joan was isolated even more because of this reputation. This caused Joan deep shame and loneliness as she struggled to care for her children.
These were some of the worst years of Joan's life.
But when a church opened up in Joan's village, her whole life changed. At this church, Joan met Jesus, and he turned her life around. Joan became active in the community at her church. And it was here that she found the love and acceptance she had been craving.
Joan also joined the Bakery Outreach ministry hosted by her church! She quickly learned enough about baking to open her own baking business in the area. She was the first woman in the program to open her own business.
Since then, her business has taken off! When Joan first started, she didn't have much money, so she started by selling cakes. But since then, she's expanded into making wedding and birthday cakes! Whenever Joan gets a big order, she asks the other women in the ministry to help, and they all share the profits.
Joan's life is entirely different now, thanks to the love of Christ and her newfound ability to support herself and her children. What a profound difference the Women of Worth Bakery Outreach ministry has been able to make in her life, and the lives of so many other women.
Nalengo's Story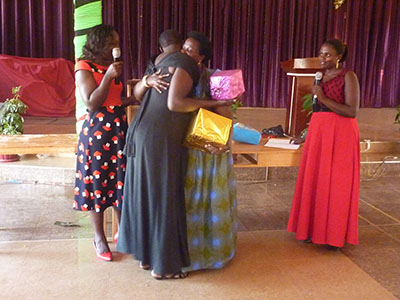 Joan's story shows us the transformative power this program can have on a woman's ability to take care of herself and her family. But this next story, Nalengo's story, is a tribute to the beautiful community that the Women of Worth program has created.
To celebrate the incredible success of their program, the women involved in Women of Worth threw a party. And all of the women involved brought each other gifts. They wanted to celebrate the love they'd come to feel for each other. As they opened their gifts, the room was filled with joy.
But when Nalengo was handed a present, she began to cry. Not out of sadness, but out of gratitude and disbelief.
This was the first gift Nalengo had ever received.
She'd never even received a gift from her late husband, or from her parents when she was a child. She'd given many gifts to friends who had married, and while she wrapped them, she would always wonder to herself: "Will I ever get a gift? I can no longer marry, I can no longer graduate, how will I ever get a gift?"
And so when Nalengo was given one by the women of her church, she was overwhelmed by emotion.  She couldn't believe that this dream had finally come true.
Being a part of the Women of Worth workshops has transformed the lives of so many women.  It's among these women that Nalengo has found a community of people who truly care about her.  She said that "it is only while among these women that I feel really special." 
The love and support of a community can make such a difference.  Not only do the Women of Worth workshops teach these women valuable skills such as baking, they've also created a group of women who care about each other and make each other feel special. 
Your support has made this beautiful community and these stories possible.  Who would have thought that a few ovens and baking lessons could create such incredible things?