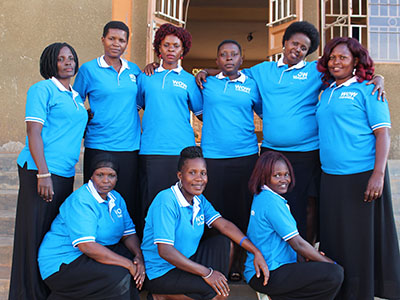 Countless women in Uganda suffer from domestic abuse. Traditionally, many Ugandan women don't have incomes of their own, and many of their husbands lord this over them. Beaten down and berated, they're punished for being "burdens" in a society where men are seen as the primary breadwinners.
But not anymore. Now you're helping to empower these women!
In August of 2018, our Kinship Partners in Uganda hosted a women's conference as part of their Women of Worth Empowerment Program. Over 200 women made the journey to attend: struggling single moms, lonely widows, abused wives, and any other women who needed encouragement.
The women sang and danced. They heard motivational messages and attended workshops. And many attendees were further inspired by the women helping to organize the conference whose lives had also been changed because of the Women of Worth Empowerment Program!
What's the Women of Worth Empowerment Program?
At its core, the Women of Worth Empowerment Program offers women a way out of their desperate circumstances. To do that, they teach a variety of income-generating skills, such as baking, liquid soap making, farming, and tailoring, just to name a few! The women develop their skills and then create their own small businesses to help support themselves, their families, and their communities.
Six years after it began, the program is still going strong - and growing! So far over three hundred women have started their own businesses. And you helped make that possible!
In fact, over half of the food that was enjoyed during the women's conference came from the farms of women in the program. There was even enough food afterwards to give to other families in need.
These women are completely changing their lives.
Women like Jane…
Jane was forced into marriage at the young age of 16. Ten years and five children later, Jane's husband died, leaving her hopeless and desperate. She had no money and five mouths to feed, not including her own. That's when she discovered her local church.
And the Women of Worth Empowerment Program.
Jane joined the baking classes and eventually turned her entire life around. She even became the first woman to start a baking business in her area!
Jane said, "…Today, I get orders for party cakes and I have been able to not only employ other people but also take care of my… orphans. Besides my own children, I adopted two more orphans whom I also take care of. I thank God who used Women of Worth Baking Program to change my life." 
So What's Next?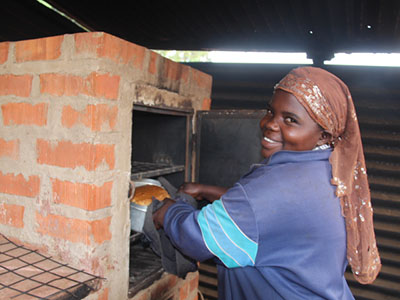 The Women of Worth Empowerment Program is showing no signs of slowing down! Their dream is to expand and help even more women all over Uganda. Is that something you'd like to get behind? Are you ready to help hundreds of women in need?
The program's baking classes are one of their most popular! So far the program has seven baking ovens spread out amongst different Kinship Projects for the women to use for their creations. But our partners are praying for additional ovens to be able to bring their baking classes to even more communities. Each oven is only $600.
This would make a wonderful group giving project! Would you, your family, friends, or even your church group like to join forces to raise money for an oven? Start now by making your gift here. (or click here to create your very own fundraiser!)