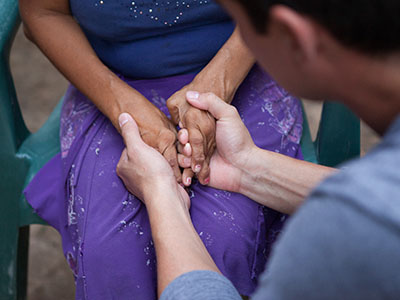 Gloria is a widow, a mother of five, and is crippled by a mystery illness.
She has an untreated condition that leaves her in constant pain. She's gnarled by sickness and broken-hearted over the unavenged murder of her husband. And the worst part is that within her remote Honduran village, there's no hope for her. That is, until you come into the story.
You can put food on Gloria's table, one that lays far too bare at every meal. You can send Gloria's 14-year-old daughter back to school, where she was excelling before her mom pulled her out to help around the house. You can make sure this same young girl doesn't get pregnant while she's still a child herself – as so many other 13 and 14-year-olds do in her village.
You can help them.   
Here's how: If you give $45 a month, Gloria and her children will have enough food and water. If you make that $65 per month, Gloria's daughter and her other kids can go back to school! Write "Honduras" on your check or donate here, and you'll be a huge help.
We're going to do something big in Honduras. We are creating a committee to help us open a huge church and remodeling hurricane-damaged homes to be used as safe havens and children's dorms.
For more information on how you can reserve your spot, contact us at (847) 577-1070 or info@kinshipunited.org