Have you ever used Charity Navigator to help inform your personal philanthropy? In fact, you may have even found Kinship United based on our Charity Navigator rating.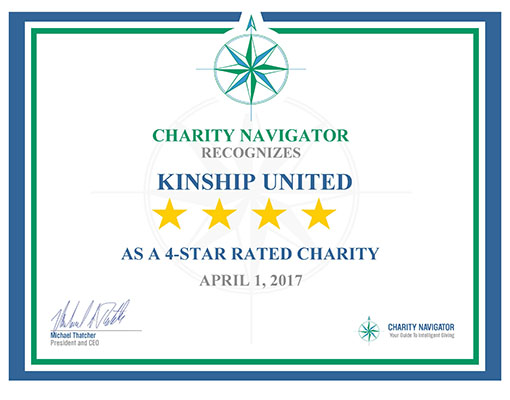 We love the service that Charity Navigator provides to smart philanthropists, and we are immensely proud to say that Kinship United has once again received a four-star rating from Charity Navigator, "demonstrating strong financial health and commitment to accountability and transparency."

We couldn't have done it without you! Thank you for trusting us with your contributions and investments. You are the one who makes every rescue, hot meal, cup of clean water, and joyful smile possible. So we always make sure your gifts do exactly what you intend for them to do!
Thank you for all of your prayers and support!
Review our Charity Navigator profile here.  And, want to see your four-star impact? Check out our most recent annual report. 
Updated 4/3/2018