Just like your own children, Kinship Kids require consistent support to help keep them fed, housed, and educated. Raising a child takes ongoing support, a whole lot of love, and, of course, a village!
Will you be the one to step up to bat for these children every month? A rewarding commitment like none other, monthly Kinship Project sponsorship is the best way to say:
"I am here for you, you are loved, and unlike the others, I will not abandon you."
Or, more aptly, through the guidance of scripture:
"It is the LORD who goes before you. He will be with you; he will not leave you or forsake you. Do not fear or be dismayed." - Deuteronomy 31:8
Home Sponsorship Spotlight: The Cayacoa Kinship Project, Dominican Republic
Sponsorship has constantly enhanced the lives of the children in one of our largest Kinship Projects, the Cayacoa Kinship in the Dominican Republic. The sponsors who are devoted to Cayacoa have stood by these children's sides for years, always providing to answer their calls for help.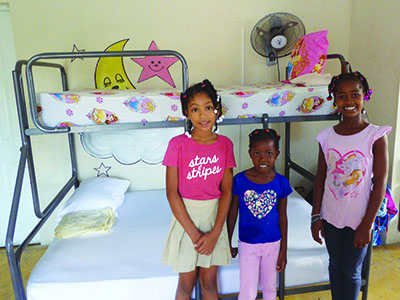 One of our devoted Cayacoa Kinship Project sponsors fully funded brand new beds for every single one of the kids at the end of last year. They also provided bedding with some of the children's favorite cartoons and princesses on it! When a need arises, Kinship Project sponsors are the heroes who come to the rescue. Emergency repairs, a food shipment, or school supplies – it's the devoted sponsors who are there to meet these needs.
But the Cayacoa Kinship Project is not fully sponsored. And help is needed for a laundry list of problems.
Tropical Storm Elsa recently devastated the Southern coast of the Dominican Republic and neighboring countries. Thankfully nobody at the Kinship Project was hurt, but the storm did reveal that the roof is leaky! The upcoming rainy season starts in November and extends until the middle of February.
In addition to orphan care, education, and church services, the home leaders at Cayacoa distribute food to nearby communities. The flatbed truck they use can only carry forty boxes, which is a problem because they serve upwards of 250 families! This has been hard on the transmission, which must be repaired.
Giovanni, our in-country leader in the Dominican Republic, says that along with roof repairs, Cayacoa could use a bit of patchwork! A fresh coat of paint and some plumbing repairs are in order. And once this myriad of repairs is complete, it's also Giovanni's dream to purchase worship instruments and a sound system for the church.
If you would like to sponsor the dreams of the Cayacoa Kinship Project, please click here to donate.
Answer the Call: Become a Sponsor!
A few of our Kinship Projects are currently fully sponsored. And you may be one of the incredible people to thank for that!
If so, let us express our gratitude and our awe in your answer to this calling to give these children what they desperately want: stability.
And for those of you who've been considering making the jump to monthly sponsorship, there are more than enough opportunities for you to change an orphan's life and answer the call! Most Kinship Projects are partially sponsored or unsponsored right now.
Are you feeling called to become a sponsor? A full sponsorship of an entire Kinship Project is $1,500 per month, but any amount of recurring sponsorship can - and will - be life-changing.