Displaced children rescued by our Kinship Projects experience miracles often. And sometimes, these miracles happen in unexpected ways. In our Kinship Projects, the pastors and the caregivers are often given back just as much joy and love as they give to the orphans they minister to. Both need each other. And God uses these needs to work miracles.
Pastor Vincent has a story like that. And Mark, an orphan who came to live in the Buwanda Kinship Project, has a story like that. And their stories intersect in a beautiful way. 
Pastor Vincent's (Buwanda Kinship Project) Story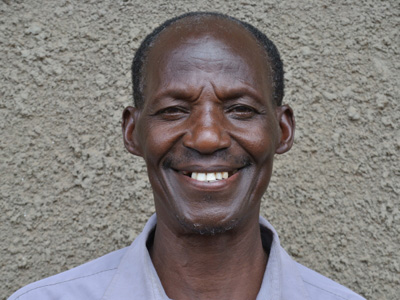 Pastor Vincent wears the challenges of his life in the lines on his face. He is only 62, but the difficulties that he has faced in these years have made him look much older. His story is one of both hardship, and God's faithfulness to him through the many challenges in his life.
For Vincent, the difficulties started before he was even born. He was conceived outside of marriage, and to cover it up his mother quickly married a different man – not his father. She had eight more children after Vincent was born.
But no one ever told Vincent that the man his mother was married to wasn't his biological father. But when tragedy struck, Vincent was suddenly forced to hear the truth. Both Vincent's mother and his stepfather died suddenly. And it was then that his siblings told him that he was not truly a part of their family, and drove him out of their home. Vincent was confused and deeply hurt. He didn't know what they were talking about. The only family he had ever known was the one that he grew up in. He had always believed his stepfather to be his true father.
But now, the only parents he had ever known were dead, and he didn't have a home. He started living on the streets. While on the streets, he was found by a Catholic priest and taken in by the Catholic Church Home. They educated him until eighth grade, and then he became a teacher in the home.
Things were finally looking up for Pastor Vincent. And you're probably thinking he had already lived his fair share of heartache. But, it wasn't over. At the age of 25, he developed a disease that doctors told him was incurable.
The disease was called elephantiasis. Elephantiasis is a horrible condition where a person's body parts swell to abnormally large sizes. Vincent's feet grew to be enormous, and he developed a horrible rash. He was humiliated. People would stare. He once again sank into sadness.
But luckily, that isn't the end of Vincent's story either. He had a friend who told him about a man named Jesus who could heal any disease. So Vincent went with his friend to a Miracle Crusade, and that evening, received two miracles. Vincent accepted Jesus Christ into his life as his Lord and Savior, and also was healed of his elephantiasis. After nearly three years, he was finally healed.
After Vincent was saved and healed, he found his siblings. He forgave them for driving him away from home, and they all became family again. But Pastor Vincent was getting older, and he still didn't have any children. He had his siblings back, but he wanted a family of his own.
Because he was so old, Pastor Vincent began to think that he was never going to have children. He talked to God one day, and expressed his grief that he would never have kids. It was not long after that God brought Pastor John Kamanzi, the founder of Kinship Uganda, into Pastor Vincent's life. John soon became like a son to him.
Through Pastor John's influence and encouragement, Pastor Vincent gained 14 children in the Buwanda Kinship Project. His prayers were answered!
And this was only the beginning of a ripple effect. Pastor Vincent has changed the lives of the orphans he cares for. Like Mark.
Mark's Story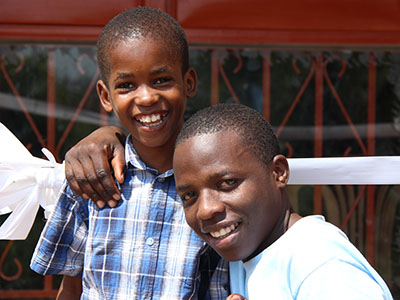 When Mark was 12 years old, his mother and his father both died in a car accident. In a single instance, Mark's whole life was changed. He found himself an orphan, and completely alone. He describes the feeling as being without an anchor, or like his roots had been taken away. Now, he felt like nobody's child.
Mark struggled in silence for months. But eventually, he couldn't handle the despair that he felt any longer. He decided to drown himself in the dirty village well. But while he was struggling to get into the well so he could drown, Pastor Vincent saw him. Pastor Vincent ran over to Mark, and rescued him. He took Mark home with him to the Buwanda Kinship Project.
The love that Mark experienced in the Buwanda Kinship Project was nothing that he had ever experienced before. The kindness and compassion that Pastor Vincent showed him nearly brings him to tears when he remembers it. Mark said that he had never known that there were people and a God that could love him so much.
Isn't it beautiful how God answers prayers by using His people? Pastor Vincent wanted children, and Mark needed a father. Pastor Vincent deeply wanted to show orphans how much they were loved, and Mark craved that love more than anything else. They needed each other, and God brought them together. These are the miracles that happen with Kinship.