Did you know that your gifts not only work together with Kinship United's international partners, but they also work with other organizations! Ecclesiastes says, "A cord of three strands is not easily broken", and you are one vital strand in that cord.
Here's how:
Earlier this month, our partners in Burkina Faso discovered that a local organization, which helps people living with AIDS, had run out of food. Most of the already struggling families they support were now starving.
But your gifts came to the rescue! You, along with our partners in Burkina Faso, joined forces to bring cartons of food to the organization and big smiles to the faces of the people they care for.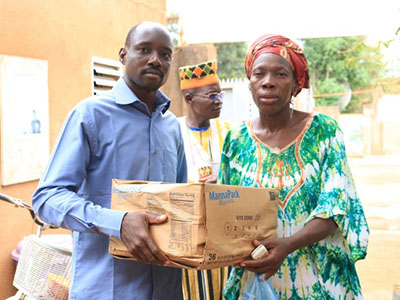 People like Sankara Awa.
Sankara is a widow infected with AIDS who's trying to support her two children. She washes clothes just to survive, but it doesn't bring in enough money to feed her family AND send both of her children to school. In fact, she had to make the heartbreaking decision to send only one.
Without having enough to eat, Sankara and her family were weak and tired. But her new food supply gives her hope! Sankara said, "I think that if we have food for every day, our health will get improved, and we shall be strong enough to work and support our children at school."
Thanks to you, people like Sankara all over the world stand a fighting chance to make their lives better for themselves and for their children. And it all starts with your financial gifts!
Now give yourself a pat on the back. Because you did something quite wonderful today.