When a child experiences extreme trauma at a young age, the side effects of it can often be long-lasting. And even after an organization like ours rescues that child, healing doesn't happen overnight. Which is why Kinship Projects offer long-term solutions and care for children like Jefferson.
At the young age of only two, Jefferson experienced extreme trauma at the hands of his father. Child protective services in the Dominican Republic asked our Cayacoa Kinship Project if they could care for young Jefferson until he healed and could be placed with another family member.
However, his road to recovery was not a quick one.
Jefferson struggled to overcome his physical and emotional wounds. He needed medical attention for head wounds and burns. He couldn't speak and was not potty-trained. And he also never smiled and couldn't look anyone in the eye.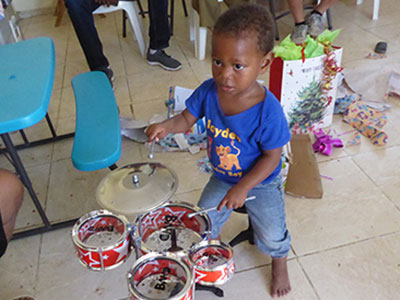 Cayacoa decided they would remain his home and safe haven until he healed completely or if child protective services couldn't find another family member. They were in this for the long haul.
Something that wouldn't be possible without your support.
Child rescue isn't a one-and-done operation. Rescue is only the beginning. That child may need months of medical care or counseling. They need time to learn how to trust again and feel safe. And those months also include all childcare essentials: food, clothing, shelter, education, etc.
Which is why children like Jefferson need your help to survive and thrive.
After six months of love, care, and time to heal, Jefferson now smiles and plays with the other children. He likes to call his caregiver "Mom," and she gives him hugs and treats all the time.
Kinship Leader Giovanni said, "He has healed from his head wound. He also smiles and is a loving child who steals everyone's heart who comes across him."
Thank you for making inspiring stories like Jefferson's possible. The ending of his story could have been tragically different had Cayacoa not been able to intervene.
Please help keep Kinship Projects prepared to welcome new children while also caring for the Kinship Kids they already have with a gift to our Orphan Rescue and Care fund today.