As I sat down to write to you this year, I struggled to think of what to say. This year has been tragic in many ways, and I know many of you have fought your own hard battles. Yes, when looking back on 2020, I'm afraid the negative comes to mind first.
Food insecurity is at an all-time high in the areas we serve after locusts and floods destroyed crops and closures blocked distribution routes. Diseases like malaria and HIV/AIDS are out of control after public transportation shutdowns prevented people from getting life-saving medicine. And fear of a new and unknown illness was crippling to orphans and widows with PTSD and attachment disorders.  
But the more I thought about it, I began to remember the positive outcomes we've seen this year. You jumped in and helped us weather through each obstacle we faced – even in spite of a pandemic. And when things got tough, your generosity fought back to make sure vulnerable children and communities were cared for.
When schools closed, e-learning seemed impossible without even a single computer in most of our Kinship Projects. But you made it possible, and now our kids are learning in new and different ways. In fact, this may have forever changed how we handle education in our Kinship Projects.
When transportation broke down due to road closures and mandatory curfews, Kinship leaders needed vans and buses, and fast. Thanks to gifts from generous donors, our Kinships are more accessible than ever due to reliable vehicles.
Restricted access to medication was a matter of life and death for HIV positive Kinship Kids and church members. To make sure they stayed up to date on their life-saving medical treatment, we collaborated with the UN, Red Cross, USAID, and other agencies. While the pandemic inspired this greater collaboration, we trust it will continue, with greater possibilities in the future.

And finally, Kinship Churches are growing!
One Thing is Certain in 2021: Our Work Remains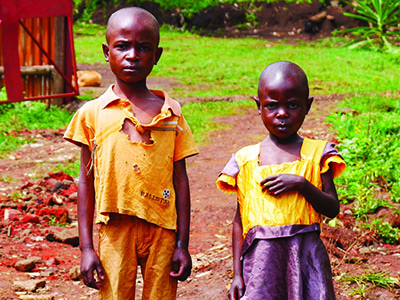 We don't know how or when this pandemic will end. In many of the areas where we work, it hasn't even truly arrived there. But what we do know is that the global fear and unrest caused by COVID has only exaggerated food insecurity and fragile health needs.  You are needed now more than ever to make sure orphans and widows are safe and cared for.
As we look with great hope towards a new year, will you walk with us faithfully with a gift to Kinship United? Your support will provide desperately needed food provisions, medical supplies, and more.