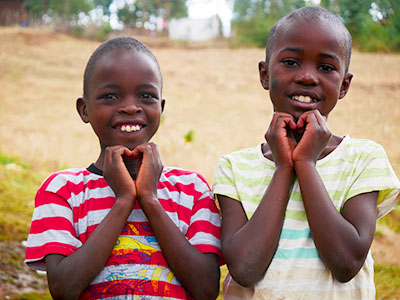 With Valentine's Day right around the corner, it's the perfect time for you to start 2021 with a full heart. And we know the perfect way for you to do that.
This year, share your love not only with orphans in need but also with those you care about most. Skip the chocolates, and show a loved one you care by making a donation in their honor!
It's easy, and we'll even mail them a card on your behalf to tell them how much you love them. Here's how you can make it happen:
Donate online to the giving area of your choice.
Contact us afterwards to provide us with your full name and the name and mailing address of the person you wish to donate in honor of. You can even send a short message you'd like us to include in the card announcing your gift, such as "Happy Valentine's Day" or "I love you."
And we'll take care of the rest!
This Valentine's Day, let actions speak louder than words. A gift from you can show a child your love by providing nutritious meals that give her strength. It can show her by giving her a safe roof over her head. And it can show her by making it possible to welcome her into the loving embrace of her new Kinship brothers and sisters.
And 100% of your gift goes where you designate. So you have a 100% impact.
Do you know someone whose heart would be filled by knowing their gift from you helped a child in need? Then this would be the perfect Valentine for them!
Chocolates last a week, but helping orphans impacts their entire lifetime. And we know you have a big heart. How? Because you're reading this! So show a loved one that you care by making a gift to help orphans and widows in their honor today.
We will mail a card to your loved one as soon as possible after you contact us! However, once mailed, we cannot control whether or not the card arrives before Valentine's Day.