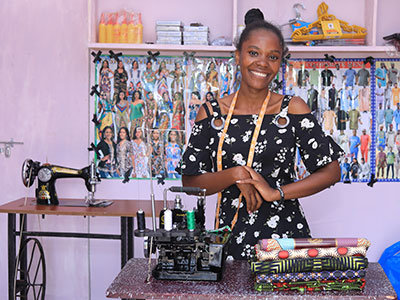 My name is Sylvia Nabadda, and I am 24 years old. When I was just six years old, my life took an unexpected turn. My beloved father passed away due to an unknown disease, leaving behind my sickly mother and me. We lived in the humble villages of Buwanda, where life was challenging for us.
In the midst of our struggles, a ray of hope appeared in the form of Pastor Mbabazi. He saw the difficult circumstances my bedridden mother and I faced, and he decided to take me under his care at the Buwanda Kinship Home. It was a defining moment in my life.
I vividly remember my first day at the Buwanda Home.
I was given a towel and sandals, simple things that I had never owned before.
Brushing my teeth with toothpaste and having my own toothbrush felt extraordinary. These small gestures of care and kindness left an indelible mark on my heart.
As the day progressed, I was shown my sleeping bed. It was a beautifully made bed, and I couldn't contain my excitement. Although I can't describe every detail of my time at the Buwanda Home, I recall being captivated by Pastor Mbabazi's wife, who skillfully made our clothes. Watching her cut and sew fabric together was a source of great inspiration for me.
Under the care and guidance of Pastor Mbabazi, I flourished at the Buwanda Kinship Home. When the time came for me to continue my education, I was transferred to Kireka Kinship Home. In my village Buwanda, there was only a primary school, so I was given the opportunity to attend secondary school at Kireka Kinship Home.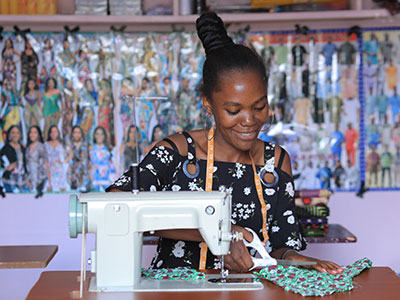 During my time there, a deep desire grew within me—to become someone who could create beautiful clothes, just like Pastor Mbabazi's wife. I embarked on the journey of tailoring, eager to learn and master the craft. Simultaneously, I took on the responsibility of leading prayer and discipleship sessions at the home. It was amazing to see how God connected the dots in my life.
Tailoring became more than just a skill.
It became a tool for me to connect people to the church and bring hope to hurting individuals.
Through my [craft], I have been able to share the love and message of Jesus Christ, showing others that there is hope even in the midst of difficult circumstances.
My journey from orphan to tailor has been one filled with challenges and triumphs. It is a testament to the power of love, faith, and perseverance. Today, as I stitch fabric together, I am reminded of the incredible journey that led me here. I am grateful for the kindness and support I received along the way, and I am determined to continue making a difference in the lives of those around me.
Written by Sylvia and shared by Eddie, our field team member in Uganda