Ben and Christine's Amazing Story of Teaching Refugees in Kakuma
Have you ever wondered what our founders did before they began their Kinship Projects? What lives did these incredible people lead before they started creating safe spaces where orphans have their childhoods restored?
Well, now you can hear the incredible backstory of one of our outpost leaders, Ben, and his wife, Christine.
Here's the story of their experience, and how they came from Kakuma to working with Kinship United.
Kakuma Refugee Camp: Ben and Christine's Story
The first time that Christine walked into Kakuma Refugee Camp, she had to fight back tears.
It was 1998, and she had recently graduated from a college in Kenya. The strong call she felt on her life to work with vulnerable groups of people had led her to the entrance of Kakuma, ready to work as a teacher for the children and adults who found themselves displaced from the only homes they'd ever known.  
Kakuma Refugee camp was built when the Sudanese "Lost Boys" showed up in Kenya. These were children who fled the violence in Sudan in 1992 and traveled on foot through Sudan, Ethiopia, and then into Kenya. The refugee camp was hastily erected in response to their arrival, as a place for them to live.
29 years later, it's still there.
It's since become a home for refugees from many surrounding African countries.
Six years later after the camp itself was created, Christine found herself there, ready to teach. She'd moved there from her home town of Kitale, a city in Kenya that is an 18 hour drive from Kakuma. Her husband, Ben, one of our Kinship Founders, was unable to leave his job, and so stayed in Kitale.
Christine describes her first few weeks in the camp as extremely difficult. Sandstorms accompanied her on her first day, making it impossible for anyone to cook, or do much of anything. In the harsh, dry climate of Kakuma, sandstorms were common. Imagine, the hot wind whipping bullets of sand across your face, into your eyes.
It was immobilizing.
Christine also found that the camp only had one water pump, and that women would wait for as long as three hours under the hot sun for the water they needed to keep their families alive. They lived in dirt houses, with tarps covering the side. The suffering that Christine witnessed in the Kakuma Camp was difficult for her to handle. She cried often at the beginning of her time there, and began to lose her appetite after spending day after day with people who were starving.
How could she bear to eat when those around her didn't have enough?
But as difficult as it was, and as harsh as the conditions she found herself in were, Christine stuck it out. She knew she'd been called to be there, and she was going to obey God's calling. And the longer she stayed, the more she could bear the suffering all around her. Her surroundings didn't get any easier, and the suffering around her didn't lesson, but she became stronger, thanks to God's power and comfort.
She taught math and physics to those in the camp, both children and adults. Many had missed years of their education because of their displacement, and found themselves severely behind. But Christine was there to help them catch up.
In her classroom, there were people from many different tribes and African countries. Christine struggled with the language barriers and hostilities between members of different tribes. She said that many of the refugees held a lot of suspicions of those around them. They'd seen and experienced so many atrocities, it had become hard for them to trust anyone. She said that this distrust would go so far as them being unwilling to eat food they were given.
Just in case the giver had poisoned it.
Communication between different people was often times difficult because of the language barriers and the suspicions, which meant that these difficulties were hard to work through. People in the camp would hold grudges and resentments without ever communicating them, and those thing would just grow, instead of diminishing. Uniting disparate people was key to the work that Christine did in Kakuma, just like it would be key to the work she would eventually do with Kinship United. Working through all of these issues, and the many cultural differences that existed, was extremely hard for Christine. But somehow, even with all of those difficulties, Christine made her classroom work through the grace of God.  
When she came into the camp, there were already many churches present. Christine started to build into the ministries that already existed on the premises. She began a high school fellowship group with the kids that she taught in the camp.
And she began to train pastors. When she began to train pastors, she quickly realized that it was too much work for her to pull off alone. And that's when Ben quit his job, and moved to Kakuma with her. Before Ben moved to Kakuma, Christine spent most weekends on the back of trucks, on the 18 hour trip from Kakuma to Kitale.
Once she even made the drive while she was 3 months pregnant.
When Ben moved to Kakuma in 2003, the two of them were finally together, now partners in marriage and in ministry. They'd been married for many years already, and now could finally live and work in the same place. And it meant no more 18 hour, bumpy rides on the back of trucks for Christine.
Ben took up training pastors in Kakuma. But after only a year of living in the camp, Christine's contract was terminated, and their time there was over.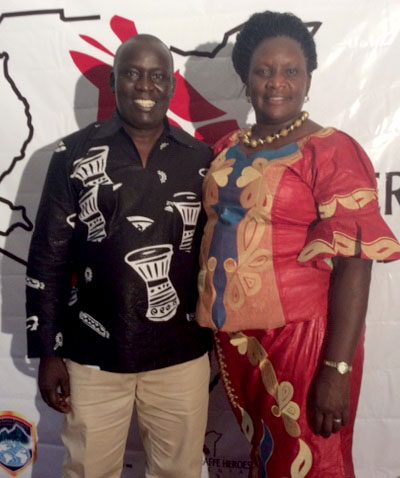 Care for Orphans and Widows in Kenya
Join Ben and Christine in their efforts to rescue vulnerable children and suffering widows!
So What Happened After Kakuma?
After Christine's contract was terminated at Kakuma, she and Ben moved back to Kitale. If God had called them to stay there longer, Christine said that they absolutely would have. But they took the termination of her contract as a sign that it was time to move on. It was the series of events that followed that led them to start their own ministry.
And eventually to partner with Kinship United.
Once they'd moved back to Kitale, Ben kept the contacts he'd made in Kakuma. He began to travel to Sudan to teach pastors and also to preach himself.  Christine spent this time at home, taking care of their own children. It was during this time that the Lord began to bring Christine orphaned children that needed to be cared for, and she did, alongside her own children. It was in 2005, about a year after their time in Kakuma had ended, Christine and Ben started their ministry. Three years after their ministry was started, Christine and Ben felt called to start a high school.
It was around this time that Ben met Craig, our American founder of Kinship United, while Ben was teaching in South Sudan. After Craig went back to the States, he and Ben kept in contact which is how, a year later, Christine and Ben were starting their first orphan home. Ben and Christine became the founders of Kinship United in Kenya. Without them, there would be no Kinship Projects in Kenya, and all of the Kenyan Kinship Projects that exist now are ultimately their responsibilities.
The Kinship Project that they personally run is the Ephraim Kinship Project. They also began a high school named Gilgal, for the children living in their Kinship community, and that has since expanded and split into a separate boys' high school. Because of those schools, there are around 300 children being educated. And as if that wasn't enough, Christine and Ben have also helped establish a clinic on the same compound as their Kinship Project and the schools! Their impact has been both wide and deep.
Kenya is a different place because of the work of Ben and Christine.
And even now, years after their time at Kakuma has ended, and years after they've started new ministries, Ben and Christine are still helping to train pastors in Kakuma. They've also kept in contact with people they know from the camps. Christine said that there are lost boys who she taught years ago that she remained close to.
Her contract has been over for years, but that didn't mean that the relationships in the camp, that came to matter so much, had to end.
Christine and Ben have a powerful story. God has called them to extremely difficult places during their lives, and they have responded with obedience and grace, over and over again. They acknowledge the difficulties they have been presented with, but take their obedience for granted. When asked, they said they easily would have stayed at Kakuma longer, had they felt God calling them to do so. Christine and Ben's lives have been marked by this deep desire to care for those who are vulnerable. Ever since they were young, they have felt that pull in them. And God has used that to accomplish so many things through their lives.
What a remarkable testimony.