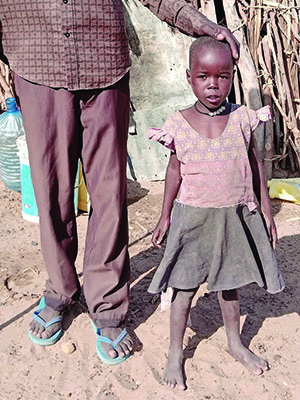 Mary is seven years old, but she looks four, and she has known enough heartache for a lifetime.
Born in a slum to parents who begged, stole, drank, and did drugs, Mary's life didn't start with much promise. Her father was arrested and beaten by the police to the point that he was crippled and stranded on the street. Her mother got AIDS as a result of their dangerous lifestyle, and died. Mary was left with her poor grandfather, who was unable to provide for her. In fact, so far, no one had been able to provide for Mary.  
Mary was rescued into the Lodwar Kinship Project in June. Do you know what that means? This Christmas will be Mary's first Christmas in a safe, loving environment.
Now, here's where you come in: will you make Mary's first Kinship Christmas extra special? Keep reading to find out how you can give an orphan a gift they will cherish this Christmas!
New Clothes: Just $25 will purchase new clothes for an orphan
No groans here when Kinship Kids open up socks or underwear on Christmas morning. A new outfit gives an orphan dignity and tells them they are known and loved.
Your gifts are caring for nearly 2,000 orphans – for little boys and girls who have worn the same stained, torn outfit over and over, beautiful new clothes tell them, "You're worth it."
"I want to give an orphan new clothes!"
A Warm Meal: $30 can feed as many as 1,000 people!
Mary spent so many days and nights where all she could think about was how hungry she was. When a child first arrives at a Kinship Project, often the first thing they want to know is: how much food do they have?
Your gift of food this Christmas will stock Kinship pantries with rice, maize, beans, and more. You'll give an orphan like Mary who is new to a Kinship Project a huge smile and sigh of relief when she sees it! Your support will also allow Kinship Projects to share food with the poor and hopeless in their communities.
It's kids like Mary who will receive your gifts when you donate to Kinship United this Christmas – 100% of your support goes where you designate. Make this Christmas extra meaningful and donate today.