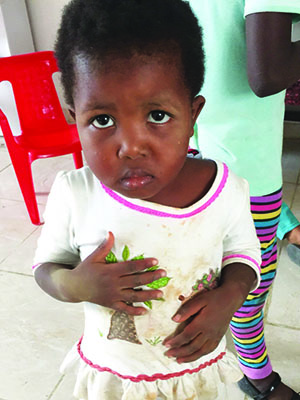 Yulina was orphaned and abandoned before she was four years old. When she arrived at her Kinship Project, she was extremely malnourished and was wearing only the tattered clothes on her back. She was devastated by her loss, and she was surrounded by strangers. Yulina desperately needs love and care now – she has experienced enough trauma for a lifetime!
YOU can bless Yulina with the perfect Christmas gift this year!
But what does an orphan want for Christmas? And how can you make sure she gets it? We've put together a Christmas list that's filled with things that would bless an orphan and show them how much God loves them this Christmas. 100% of your gift will go where you designate!
Two of the best things you could give a child like Yulina are a Christmas meal and a new outfit.
For just $30, you can provide as many as 1,000 meals for the hungry. From desperate refugees passing through a Kinship Project, to the starving woman who lives alone down the road, you can feed the hungry this Christmas.
And for $25, you can buy a new set of clothes for Yulina or a just-rescued orphan like her. Just think of the joy on her face when she is able to feel comfortable in her own skin, knowing she is not alone and she has someone out there who is watching out for her.
Give a New Set of Clothes Here
Are you ready to make this the best Christmas yet for Yulina and thousands of orphans like her? Get started here or text ORPHANWISH18 to 41444.