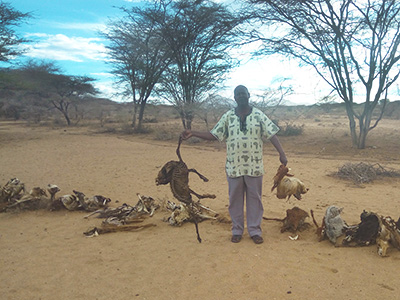 Can you imagine? Looking at your weak, dehydrated child and telling her that you don't have any more water for her. But you're already weak yourself because you've been walking MILES in the hot sun to gather water and making sure she drank before you had any at all.
When you read the word "drought," what do you picture? 
In February 2017, Kenya declared their drought a national disaster. Rivers have dried up leaving no water for crops or thirsty animals in some areas. Livestock have died, and entire communities have had to pick up and move in order to find water. Water is life – and without it, you die.
On top of that, the drought has severely stunted the growth of the country's crops. And right now, that means less food for higher prices. So how can poor families survive? By rationing their meals to only one a day - if that.
Supporting Kinship Projects in Kenya and Uganda has never been as important as it is right now. As pillars of their communities, people look to them for help. This is a complex issue, and the needs are different in each Kinship Project. Some need deeper wells to be able to access water that's dormant beneath the dry ground, while others need food shipped directly to them. The best way you can address each need is to become a supporter of the Emergency Response Fund. You can be the saving grace for a community in crisis because of drought and oncoming famine.
They need your support right now. This emergency is only getting worse. Will you be their champion?
Sources: 
https://www.theguardian.com/global-development/2017/jun/02/drought-centre-stage-kenya-election-campaign-food-prices-rise
http://www.aljazeera.com/news/2017/03/number-kenyans-hungry-doubles-3-million-170328110811329.html