Reading statistics about major humanitarian issues like world hunger gets discouraging. The numbers are overwhelming, and it seems impossible to make a difference.
But with World Food Day coming up this weekend, we wanted to remind you that you ARE making a difference. You're making it possible to ship and distribute meals to orphans, widows, and community members facing starvation.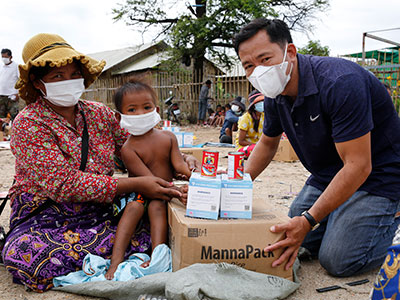 Thanks to your generous support and a partnership with Feed My Starving Children, almost 2 million MannaPack meals were shipped to Cambodia just this year alone – not to mention the food containers shipped to other countries as well.
These meals fill empty bellies previously suffering from hunger pains and provide nutrients to bodies struggling to stay healthy.
But that's not all. These meals are also a way for our field team members to connect with their communities and share the Gospel.
Before COVID, the area around one of the Kinship churches in Cambodia was slow to accept Christianity. Pastor Jack said that they would curse the church and throw trash in front of it. But during lockdown, people weren't allowed to leave their homes. And food supplies started to run low.
So Pastor Jack and his ministry began working closely with their local government to share MannaPack meals with their neighbors. He considered it a miracle that they could build a good relationship between church members and their community during this difficult time. And the ministry was even able to share the Gospel with the entire area.
Now, the church has developed a healthy relationship with their neighbors, with whom they share food and the Gospel. And the community knows where to send those struggling to find food: their local Kinship church.
These life-saving meals also gave one widow a way to connect with her community after battling hunger and isolation, and the experience strengthened her connection with God as well.
Choun Buthern was the only Christian in her community, and she didn't have many friends. Her struggles escalated when her family's financial support dwindled, and she didn't have enough money to buy food.
Pastor Jack joined the evangelism program in Choun Buthern's community. When they met, she opened her heart to Pastor Jack and told him her story and struggles.
Pastor Jack encouraged her to invite her neighbors to come around during his next visit. He started sharing the Gospel while Choun Buntern distributed MannaPack meals.
After a few months, more people began accepting Christ. And now, Choun Buntern is recognized by her community as the Christian leader.
By regularly sharing MannaPack with her neighbors, Choun Buntern transformed her life from prosecution to becoming a Christian leader in her community.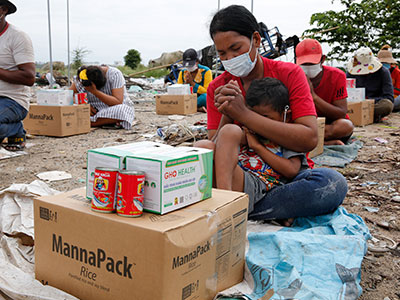 Thank you for opening your hearts to orphans, widows, and communities in need. One person might not be able to save the world. But your support means the world to all of the lives you touch through Kinship United.
In honor of World Food Day, will you make a gift to feed even more starving orphans, widows, and community members?