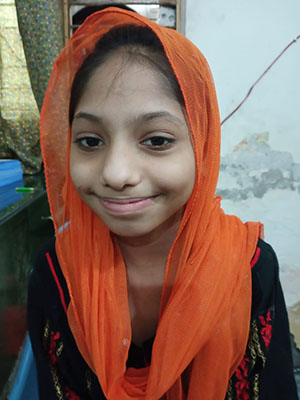 Today, Timmer is a young girl living happily at the Lahore Kinship Project in Pakistan. But just a few years ago, she was living a much different life with her biological family.
Timmer and her two big sisters lived with their parents. Her mother and father had a good relationship, and they worked hard to take care of their three girls. But everything changed when the fourth and youngest sister was born.
After Timmer's baby sister came into the world, their father began to drink. He drank often and began to fight with their mother.
The four sisters watched their parents argue daily. "Small sister was very small," Timmer said. "She used to cry at night."
The Day Everything Changed
One day, Timmer woke up and her mother was gone. She'd taken Timmer's two oldest sisters and left. Timmer's father searched for days but never found them. Timmer and her baby sister never saw their mother or big sisters again.
Not long after that, their father married a new woman. Their new stepmother often refused to give Timmer and her sister food to eat. Their father came home late at night on a daily basis, leaving Timmer and her sister alone with their stepmother all day long.
Timmer's stepmother decided she no longer wanted the children living in her home, so she kicked Timmer and her sister out of the house.
Due to the crippling effects of extreme poverty and disease in Pakistan, millions of children are orphaned, often falling victim to human trafficking or forced labor. Timmer was ten at the time, and her sister was just a toddler. She wanted to protect herself and her sister from these terrible things, but she felt so helpless.
A benevolent neighbor found the girls and brought them to the nearby Lahore Kinship Project. They received beds to sleep in and meals to eat at a safe place where they could live, worship, and learn.
And from that day forward, they finally felt loved.
A New Beginning
"We are studying here and celebrate every festival with great enthusiasm," Timmer said with a smile. "We are very happy here."
The Lahore Kinship Project is a safe haven in the midst of the darkness, offering orphans a life away from despair and hunger. Thanks to your support, these precious children are provided a loving home centered on the Biblical principles of God's love for them.
Timmer and her sister have a happy family again at the Lahore Kinship Project. They will always be loved there.
Would you like to help rescue and care for even more children like Timmer and her little sister? Then please consider contributing to our Orphan Rescue and Care fund. And 100% of your gift goes to where you designate. Please click here to make your gift now.