It's hard for children living on the street to picture a future for themselves. When their stomachs are aching with hunger and they're desperately searching for a safe place to sleep at night, their only focus is survival.
But when a child joins a Kinship Project, your gifts help them do more than survive. You make it possible for them to thrive!
Meet two young girls who are currently thriving at the Bosnia Kinship Project in Kenya: Brenda Mercy and Lydiah. Thanks to your support, the Bosnia Kinship Project is able to encourage these girls to pursue their passions and teach them valuable life skills they can bring with them into adulthood.
Brenda Mercy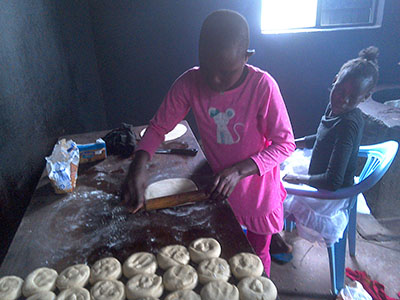 Brenda Mercy was rescued and brought to Bosnia in 2013 after her father abandoned her at a hospital. She's hardworking and enjoys taking care of things around the Kinship Project, like sweeping and cooking lentils, one of the children's favorite meals.
And recently she learned a new talent: how to make chapati!
Chapati is a delicious soft flatbread that accompanies many meals in Kenya. Brenda learned how to roll out the chapati while another girl from Bosnia cooked it. Not only did the girls learn an important life skill at a young age, but they also ended up with a delicious meal and a sense of pride in their accomplishment!
Lydiah
Lydiah is another young woman who calls the Bosnia Kinship Project her home. Like they did for Brenda Mercy, the incredible supporters who care for Bosnia have helped surround Lydiah with the love and encouragement she needed to discover her own talent: hair styling.
The Kinship Leaders at Bosnia, Pastor Esau and his wife Everlyne, are thrilled that she's developed such a skill and encourage her to continue honing it so it'll help her in the future.
Pastor Esau said, "We have been trying to find out each of our kids [sic] talent to ensure that they do what they love... ."
All thanks to you…
Your support gives children the physical things they need to live, like food, water, and shelter. But it doesn't stop there…
It also gives them the safety and protection they need to grow.
You make it possible for children like Brenda Mercy and Lydiah to be able to focus on learning new talents or pursuing new interests because they aren't struggling to survive. Your gifts invest in their futures and help give them the tools they need to grow into successful adults.
Thank you so much for your generous support and for opening your hearts to these precious children. Everlyne, Pastor Esau's wife, said, "We pray to God that He continue to give us grace and energy to take care of [these] children and may God continue to bless our sponsors so much."